Upon arrival only one connection is required on the 7-PS-90, as all other connections have already been made before shipping of the unit. One half inch to one half inch straight MP adapter needs to be purchased and installed, as it is not supplied by Advance Tabco. This adapter should be installed to the bottom of the vertical ball valve on the bottom of the heater as shown. The only flex hose that needs to be purchased and installed is a 3/8 flex hose, which should be attached to the brass MP adapter that was just installed, and tighten with a wrench. Next install the other end of the flex hose to the cold water supply and tighten with a wrench.
Learn how to correctly hook up the plumbing when installing your Advance Tabco 7-PS-90 hand sink by watching this helpful video!
Related Videos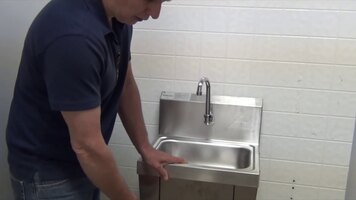 Advance Tabco 7-PS-90 Mounting Installation
This brief video gives you a few mounting tips for installation of your Advance Tabco 7-PS-90 hand sink! How Portion Scales Can Help You Control Portion Sizes
Save money for your business by learning how to control the sizes of the portions you serve! See how seemingly insignificant mistakes in portion size--such as being off by 1/8 of an oz.--can make a huge difference in your yearly profits. Gold Medal Popcorn Popper
This video will show you step-by-step instructions on how to operate and clean your Gold Medal popcorn popper! It also lists some valuable safety tips so you and your employees can stay safe while popping hot, delicious popcorn for your customers.