Wondering where to buy a food scale that's right for your business? From the kitchen to the market, or even at your loading dock, a food weight scale helps save time and money. Commercial food scales can be grouped into four main categories, each suited for specific needs. Read this guide to help you decide which is the best scale to suit your needs.
Electronic Portion Control Scales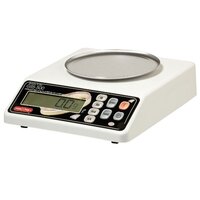 Whether working with a large recipe or individual order, portion control scales ensure that your kitchen staff produces a consistent, quality product without wasting valuable ingredients or toppings.
A small initial investment in an electronic portion control scale can save you thousands of dollars in wasted product by controlling portion sizes. Electronic portion control scales are the best scales for consistent, high volume usage in your restaurant kitchen, pizza shop, sandwich shop, bakery, or ice cream parlor.
Designed for accuracy and speed
Easy to read digital displays
Immediate response
Features to Consider:
Specialized Types:
Pizza Portion Control Scales
Oversized platforms accommodate small to extra large pizza crusts
Auto tare function lets you reset scale as you add new toppings
Shop for Electronic Portion Control Scales
Legal For Trade Scales
Legal for Trade scales undergo a rigorous testing and certification process to check accuracy and functionality. For commercial locations that calculate sale price based on weight, such as delis, markets, bakeries, or butcher shops, the best food scale is definitely a legal for trade scale.
Designed to be the most accurate scales available
Easy to read digital displays
Many models have programmable quick lookup keys
Features to Consider:
Tower Display
AC Adapter
Label Roll
Shop for Legal For Trade Scales
Learn More - When is a Scale Considered Legal for Trade?

To be considered legal for trade, a scale must fulfill certain standards established by the National Type Evaluation Program (NTEP). The NTEP evaluates the performance, features and options, and operating characteristics of the scale based on its set of applicable standards. Some tests include weighing half of the scale's proposed capacity over 100,000 times to check accuracy. Having passed the necessary regulations, the scale is awarded a Certificate of Conformance and only then can be advertised as Legal for Trade.