Ateco 3218 18" Canvas Pastry Bag (August Thomsen)
<!-[AUTO_REORDER_CONTROLS]-> <!-[PRICE_INCREASE_ADVERTISEMENT_1443218]->
Traditional canvas construction provides secure grip
Versatile decorating tool for bakers
Perfect for piping thick products like drop cookies or mashed potatoes
Environmentally friendly, reusable option
Rustproof metal eyelets for convenient hanging
Designed for heavy-duty use
Features hemmed tip, french seamed side, and stitched top
Ability to withstand heat to provide additional uses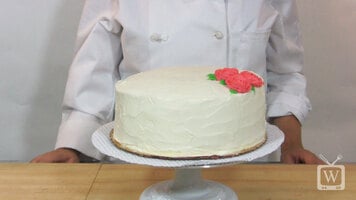 How to Pipe a Rose with Buttercream Frosting
Use these simple steps to professionally add a buttercream rose. You'll need a spatula, rose tips, a leaf tip, couplers, a flower nail, a rubber spatula, and piping bags. Begin by squeezing cream onto the flower nail in a circular motion, creating a lump with a tip on it. To create the layers of a rose, squeeze cream in an short arch motion and continue rotating the rose until you have the desired amount of layers, or petals.
Ever wonder how to professionally decorate your cake? Watch this short video and learn how to style up your next cake with a classic buttercream rose.
Specs
Length
18 Inches
Material
Canvas
Style
Reusable
Type
Pastry Bags
Customer questions about this product
Can my reusable canvas pastry bag be modified to fit different couplers and tips?

No, unfortunately due to the sewed seam, this bag cannot be cut to accommodate different tips and couplers. This bag cannot be used with couplers, as the seam interferes with it sealing properly and does not offer a secure fit for steady decorating. To review reusable bags, which can be cut, and their compatible couplers and tips check out our chart, Companion Coupler, Bags, and Tips Guide.
Ask your own question!
Details
If you are looking for a traditional method for piping foods, this Ateco 3218 decorating bag is the product for you! This 18" canvas bag is great for piping drop cookies, mashed potatoes, or even thick dough. Due to its canvas construction, this bag will withstand heat and is designed for heavy-duty use, although it is not recommended for use with fatty or greasy products. Whether you're decorating at a commercial bakery or for a catered event, this pastry bag is a reusable option to help you lessen your environmental impact.

This decorating bag includes all the classic details such as a hemmed tip, French seamed side, and stitched top as well as a rustproof eyelet for long-lasting, sanitary performance and convenient storage. Create imaginative cupcakes, cakes, food displays, and more with this Ateco canvas decorating bag!

Bringing you innovation and quality for over 100 years, Ateco, an August Thomsen brand, has been internationally known in the industry for creating baking tools of superior craftsmanship and design. By continually improving on tools, materials, and packaging, Ateco is dedicated to providing professional bakers with the kitchen essentials they need to succeed in an ever-evolving industry!

Overall Dimensions:
Length: 18"
Made in America

This item was made in the United States of America.
Related Items
Frequently Purchased Together
Customer Reviews
Arrange by

Useless to me. This is a very well constructed pastry bag and is very high quality. But every adaptor i currently own will not allow me to screw the tube holder down (the end seam is too thick). I even purchased like 5 different size adaptors hoping one would work. But to no avail. But im just disappointed. I dont like the disposable bags or the plastic lined fabric ones. Plus if i cut this bag it would start to fray at the end that was cut. So i guess this will be in a storage box in one of my storage rooms.

Todd R. from Todd's Kitchen of Comfort Food Posted on 06/26/2016

This is a very well made ateco 18" canvas piping bag. It is very good for piping dams, or completing large orders and holds up to everyday use.

Cheyenne C. Posted on 06/06/2016

This is a nice, large sized pastry bag that will surely hold up well over time. Good cloth and plastic, with solid stitching. I recommend it.

Michael P. from Mike's Mindful Plate Posted on 05/18/2016

I use a lot of pastry bags, and really love these heavy duty canvas ones by Ateco. They are very durable, hold a lot of icing at this 18" size, and are comfortable to hold for extended periods of time. I use these for piping ruffles and roses on my cakes, as well as for doing buttercream tops on my cupcakes. They wash up well, and overall are a great piping bag.

jennie H. from Jennie's Cake Creations Posted on 05/13/2016

This Canvas Pastry Bag is perfect for anything. You can use it for Cookies. Cakes, ice Cream decoration, Whipping cream. Buy few more extra to use same time with different colors. So you don't have to wash. Heavy duty bag for a lifetime to use. 5 Stars.

Muyassar I. Posted on 04/19/2016

At first I was shocked how large the piping hole is. I mean huge! (I could fit my thumb through it with room to spare.) Fortunately I had ordered a large open start piping tube to go along with it. I was able to accomplish my task with the bag and tube, but I need a large coupler. Don't forget to order one with this bag. Also, I wasn't expecting a coating-less bag. But it held up to a buttercream, so we'll give it a go.

Liz M. from Sea Level Bakery + Coffee Posted on 04/02/2016

This bag is how it is described, I was just expecting it to be coated so the liquid/sugary/stickiness doesn't seem through when I use it for fresh whipped cream. It is a nice big size, I just ordered the wrong type bag. This bag does work well with all of our tips.

Sarah L. from Ode To Food & Drinks Posted on 02/24/2016

This is a good bag for larger "stiff" frostings. They are not very friendly when it comes to clean up though, the canvas is very sticky and the whole is rather large.

Mark T. from Tripps Primal Farm and Kafé Posted on 12/30/2015

I must say that this is my favorite piping bag by far. It is so convenient. I think this one is great for large quantities of cupcakes and cakes. Highly recommended.

Tionna S. from The Tea Room Posted on 10/28/2015

we ordered the pastry bag and i wasn't is it will be good enough to use. since we received them i am putting them in a good use. i wash them after each use . i like it .

Fatin T. from Tina's Basket Posted on 10/25/2015

You can't go wrong with Ateco brand products. I love the size for piping cupcakes and cakes. It is easy to hand wash and dry.

Sunny J. from Sweet Sunny's Posted on 09/29/2015

A great staple! I couldnt make it through the day without these at our bakery! I have used many different types of pastry bags over the years and have tried different materials but you just cannot beat the canvas. I used to use the cheap plastic disposable bags but I never got the comfort or ease of use of the old trusty canvas bag. They seem to clean so much easier than the typical plastic bags as well and withstand the heat much better without breaking down. Destined to become a staple the first time its used

Michelle D. from Sugarbelles Posted on 09/17/2015

I recommend this bag for pastry because it supports good pressure and easy to wash, the material is suitable for multiple uses and I think that is your best choice ,

Victor R. from águila bakery Posted on 08/25/2015

This canvas pastry bag is perfect for hot applications. It is very sturdy and is one of the most used items in our kitchen on a daily basis.

Jeff T. from Trivits Urban, LLC Posted on 08/17/2015

Just like the 16" these are great for an assortment of uses in the kitchen. We also used these for our mashed potatoes, whipped cream, guacamole, sour cream, butter, and a few other things to jazz up our dishes.

Jeannie A. from The Meyersville inn Posted on 08/03/2015

Great pastry bag that can be reused over and over again. Can be easily washed, turn inside out. To save money from purchasing plastic disposable for everything buy one of these instead, Eco friendly.

Leticia S. Posted on 06/08/2015

Very durable and easy to clean. We really like this product and will continue to purchase this brand. We have found that it really holds up to everyday use.

Debbie L. from Hope Valley Diner and Catering Posted on 04/29/2015

This is a great size for holding lots of frosting/filling etc. Unfortunately because of the nature of canvas if you have a shortening & butter frosting the grease seeps through the bag making it slippery and unpleasant. I made the mistake of filling it with an all shortening buttercream when decorating a dummy cake and it was less than enjoyable feeling. I recommend the disposable pastry bags made by Ateco for high fat frostings, but this is a great tool to have for other types of creams. Love that i can wash it, dry it, and store it again for another use.

Kristin C. Posted on 03/22/2015

Great pastry bag. Durable, easy to clean. We use for tartar sauce for crab cakes and to fill mashed potatoes on Sheppard's pie. Be careful hen using hot item in this bag as it is jot heatproof and will burn your hands.

Marty K. from Cafe Marty Posted on 03/15/2015

The Ateco Canvas Pastry bags are made to last. Very thick canvas material, heavy duty seams. The only thing you need have to keep in mind is the size of the tip.

J S. Posted on 01/15/2015

This bag is perfect for at home cupcake decorating. Take a lot of icing in so you don't have to fill so frequently is reusable and washes well. The canvas material make it perfect to hold the bag without slipping and give you more control of it

Giuliana C. Posted on 08/17/2014

This extra large bag was great for frosting a very large batch of cupcakes. Because of the fabric I could not do marshmallow frosting but the buttercream worked great! Would recommend.

Cassie T. Posted on 08/14/2014

Sturdy, washable, durable... what else could you ask for in a pastry bag? Just keep in mind that this is canvas and somewhat porous so if you have a dense filling that requires a lot of pressure, you may get some seep-through on the exterior. However, for icing, mashed potatoes and similar consistencies, this is the way to go.

Lee C. from October Catering Posted on 08/02/2014

This makes decorating so much easier and not all of us can be Martha Stewart. It holds a lot of frosting, pipes very well, has universal tips and even washes out easily. Love it

Gabriella C. from Elements Posted on 06/20/2014

This bag is better fitted for my hands and easy to control the flow. I really like the feel of this bag than a regular plastic one. Really recommend

Karin H. Posted on 05/16/2014

i used to buy disposabale but the tough canvas squeezes better and doens brake as easy. its also much cheaper in the long run. no more cream all over the place from busts

Tyler D. from home use Posted on 01/10/2014

This pastry bag has a much better hand feel tha some of the plastic ones. It also feels heavy duty. For projects where I'm worried about scent transfer, I might still use disposables.

Stephanie H. from Southern Girl Soapery Posted on 08/20/2013

I like to decorate cupcakes, and the 18" pastry bag is a good size for me. The bottom opening is large enough for the large tip adapter. Unfortunately, frosting can soak into and through the canvas, and it's difficult to be sure the canvas is thoroughly clean when I'm washing it. While it works for now, next time I will try a pastry bag made from a different material.

Lori J. Posted on 07/20/2013

Thanks for your review! If your want an easy to clean bag made from a different material, check out the Ateco 3318 18in. Plastic Pastry Bag. Another way to ensure that you have a clean bag every time is by using a disposable bag, like the Ateco 4718 18in. Disposable Pastry Bag.

WebstaurantStore Customer Solutions

this canvas pastry bag is well made bag . it will stand up to any pastry tube. easy to use and clean up at a very loe buy.

Anita T. from nitas place Posted on 05/27/2013

This is a good bag, and it's got plenty of room for a fair amount of filling. It cleans up well, and doesn't leak. It's strong enough to pipe stiff batter, like for cookies, too, without bulging or ripping, like some plastic bags. Unfortunately, it does not take all sizes of couplers or tips. It only takes the jumbo tips and couplers, so no compatibility with the frosting tips I bought. I'd say good for piping cookies or eclairs, etc, but not for frosting or fine work, since the bits won't fit anyway. SUGGESTION to Site: Clearly mark all bags, liners, tips and couplers as being Small, Medium, or Large, so we can know up front if they'll fit together. I've placed two orders so far, trying to match up, but still have tips that fit nothing else.

Karen M. Posted on 05/25/2013

Thanks for your review! We agree that you should be able to clearly know which items work together. We are working to update our content so that you may better find the items you need.

WebstaurantStore Customer Solutions

This piping bag is so durable and it can be used to pipe on anything. It can stand up to so many different substances. I use it to pipe on my key lime pies.

Dorothy T. Posted on 09/22/2012

Though this bag doesn't offer the decorating potential of the smaller bags, it is still absolutely perfect for making roses or other decorative art! These also come at a great price!

Michael J. from The Pie Kitchen Posted on 09/05/2012

i use this ateco 3118 18 eanch canvas decorating bag to decorate ice seem that i prepare by my self at home, this is very efficient way to me do this work

Monica C. Posted on 06/27/2012

These Ateco piping bags are great because they can withstand heat and make piping hot potatoes easy! They can easily be turned inside out and washed to be used again!

Eric K. Posted on 06/07/2012

Great product, very durable and useful for the kitchen. Pipes everything mash potatoes, mousse, butter, and easy to clean as well because it is made of canvas.

Verindar K. from AMAYA LLC Posted on 06/04/2012

This is great bag for frosting cupcakes! It is really sturdy and well made. It washes really well and fits my large piping tips. Definitely a good purchase!

Amanda B. Posted on 01/08/2012

This is an excellent bag- it's durable and sturdy, and the coating makes cleaning it as breezy as is possible with a reusable bag. Plus, it's not SO sturdy that it's inflexible.

Louisa S. from Bell and Whistle Posted on 05/04/2011

These are great decorating bags! They work well and clean up very easily. I was worried at first they I wouldn't need such a large bag but it works well with macarons and for fillings.

Katie D. Posted on 10/13/2010
Get paid to review this product!
If you've used this product, simply log in and share your text, video, and photo reviews of it. The customers on the left did it, and you can too! Earn up to $16.00 per product.
Write a text review
Earn $2.00
Post a product photo
Earn $4.00
Post a product video
Earn $10.00
Login or Register