Choose the Set of Wholesale Glassware that Elegantly Presents Your Customers' Drinks
If you operate a restaurant, bar, or pub, it's important to have wholesale glassware that not only complements your establishment's decor, but also accommodates the drinks on your menu. When you browse our selection of restaurant glassware, you'll find glasses to serve anything from beer and wine to desserts, water, and other non-alcoholic beverages. Read more
To serve your craft beers on tap, be sure to browse our wholesale glassware that's specially designed for IPAs, stouts, porters, pale ales, and ciders. You'll also love our selection of glasses that will elegantly present white, red, and sparkling wines. Don't forget to stock up on the proper cocktail glasses to serve mimosas, martinis, margaritas, and cosmos, as well.
You will want to have restaurant glassware for your non-alcoholic drinks, too. We offer glasses for juice, water, iced tea, and cappuccinos. Use these glasses to present beverages to designated drivers in your bar or for guests simply coming to your restaurant for breakfast, lunch, or dinner.
Top Products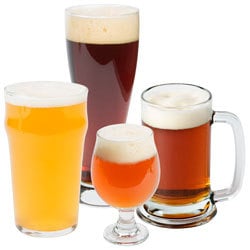 Beer Glasses
Whether you're serving stouts, pilsners, wheat beers, lagers, or Belgians, having the right glass makes all the difference. We carry a wide selection of beer glasses and mugs in a variety of styles to suit any type of beer. You'll also find sampler glasses for flights and growlers for sending your customers home with their favorite brews!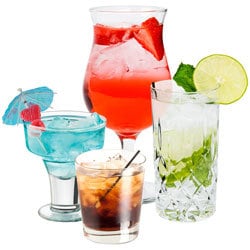 Cocktail Glasses
Present the drinks on your menu in style with our cocktail glasses. Serve classic drinks in our Collins, martini, and rocks glasses, or offer fun fruity beverages in a hurricane, margarita, or zombie glass! We also carry shot glasses and other traditional barware suitable for any busy bar.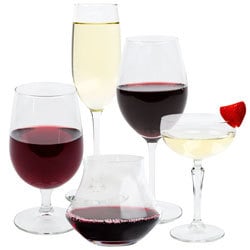 Wine Glasses
We have the wine glasses you need to serve any red, white, or sparkling wine on your menu. Browse our stemless glasses, goblets, champagne flutes, and all-purpose wine glasses to find a set that will accommodate your establishment's wine list and decor!

Dessert & Cordial Glasses
These dessert and cordial glasses are perfect for presenting anything from ice cream sundaes, sorbets, and specialty sodas to sweet cordials, dessert shots, and mini desserts. Use these in your bar, restaurant, or banquet hall.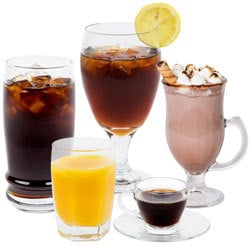 Soda, Tea, & Water Glasses
Soda, tea, and water glasses are staples in any restaurant or bar. With simple, elegant glass options like tall soda and tea glasses, coffee mugs, tumblers, and water glasses, we've got everything you need to provide a successful beverage service.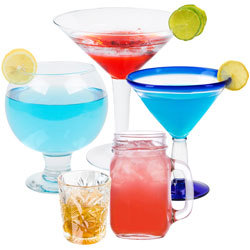 Novelty Glasses
These novelty glasses are as visually appealing as they are functional. Use them to present specialty drinks in style. If you're looking for colored glasses, giant margarita and martini glasses, or charming mason drinking jars, we've got the perfect product for you!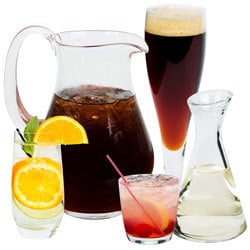 Specialty Glasses
We have specialty glasses to make drink service in your establishment more efficient. You'll also find unique products like stackable glasses and tempered glassware! Whether you're looking for a high-end line for your restaurant, or a convenient feature, we've got you covered.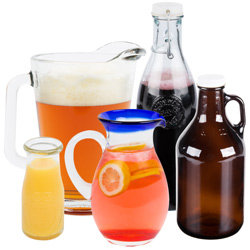 Glass Beverage Service
Our glass pitchers and bottles span a variety of styles and functions. If you're looking for an attractive way to serve drinks such as water, iced tea, lemonade, or beer, there's sure to be a glass beverage service item to suit your needs.
Our selection of wholesale glassware includes options with different features, so you're sure to find a set that will meet your drink service needs. Whether you're looking for dishwasher safe options for use in your high-volume establishment, or you need stackable styles for space-efficient storage in your small dish room, we have you covered. You'll also find that our glassware includes options for any quick-service, casual, or white tablecloth restaurant. For other great options for meal service, check out our dinnerware, flatware, and serving and displayware. If you're wondering where to buy glassware, we have a large selection available at the lowest prices.