Before we get started, let's go through some basic safety precautions. Be sure to read and fully understand the installation, operating, and maintenance instructions found in the operator's manual for this piece of equipment. Always plug the machine into a grounded outlet to prevent electrical shock to personnel. Never immerse the equipment in water. Do not pour water or any other liquids into the spinner head. Do not use excessive water for cleaning. Remember to always unplug the machine before servicing and cleaning. Operator must keep hands and face clear of the floss head to avoid possible injury. Use only Gold Medal floss sugar and Gold Medal cotton candy cones. Keep all spectators at a reasonable distance and use a floss bubble for added customer protection. Do not overfill the spinner head with floss sugar and do not fill the spinner head while it is rotating.
Learn how to safely use your Gold Medal Auto Breeze cotton candy maker! This video explains how to use your machine in a way that keeps both operators and patrons safe.
Related Videos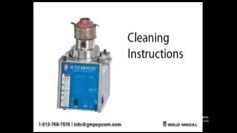 Basic Cleaning for the Auto Breeze
This video teaches you how to properly clean your Gold Medal Auto Breeze cotton candy machine to ensure great results with every use!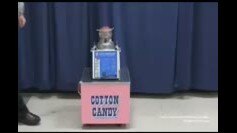 How to Operate the Auto Breeze
This video will teach you how to operate your Gold Medal Auto Breeze cotton candy machine and make piles of deliciously sweet treats!
LED Open Sign Modes
Draw customers into your restaurant with this bright LED open sign and its three selectable modes: static, tracer, and Vegas!