Patty press has been getting a great deal of attention lately. With that attention has come a lot of new questions, one of the first questions of course is how does this thing work. Well, I'll show you right here. The first thing you'll do is take the patty paper with holes which you can find in your companion items and you're going to slide that down over the posts of the machine. This will hold up to 100 pieces of patty paper. Then, you take your pre-proportioned meat and I pre-proportion it with this green disher. This is great because this actually matches up exactly with the smaller patty press right here. You can use a gray disher for the larger press that comes with the machine and that'll match up perfectly to make your quarter-pounders. What I'll do is I will go ahead and put the piece of plastic over on top right there and you can see we have a perfect patty right there. The other question we get a lot is; well, why do this then hand roll my patties? As you can see this is much faster than hand rolling but the other thing is consistency; every single patty comes out an even thickness and that makes sure that they cook evenly on the grill. That makes it so much easier on your line cooks to make perfect burgers every time and your customers, well, they just expect consistency.
Your customers expect consistency, and our patty press will help you make perfectly sized hamburger patties every time! It also saves you valuable time in the kitchen when you would be rolling patties by hand.
Related Videos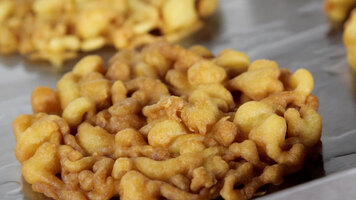 Carnival King Funnel Cake Fryer
Watch our short video to learn about the many features of the Carnival King funnel cake fryer and how this little piece of equipment can help boost your sales with fresh, golden fried funnel cakes and donuts!
How to Use the Avantco CU55 Coffee Urn
The WEBstaurant Store carries a variety of coffee urns! From setup and first use instructions to proper cleaning and maintenance care, watch this video for detailed step by step instructions on using this Avantco CU55 Coffee Urn!
True Sandwich and Salad Prep Refrigerator
Learn the ins and outs of True's sandwich and salad prep refrigerators!