The DoughXpress manual meat presses eliminate the tiresome, time consuming portion pounding of your chicken, pork, fish and veal. The consistent thickness resulting from the press enables consistent cooking time and plate presentation. DoughXpress offers the economical 15" by 15" press, and a commercial 16" by 20" press. The manual meat presses have a swing away platen for easy loading and unloading. The platens are xylan coated to eliminate product sticking and easy cleanup. Both the 15" by 15" and 16" by 20" platens allow for pressing out multiple portions at once. The DoughXpress meat press is easy to use and requires no skilled labor. Set thickness to the desired finished product. Put your portioned product on the lower platen. Cover product with parchment paper or saran wrap for faster, cleaner pressing. Pull down handle and lock over to press product. Portions are consistent in thickness time after time, allowing for consistent cook time and increases center of point coverage. The DoughXpress meat presses are made in the USA and the TXM-15-CP ships UPS in the continental US.
The TXM-15CP manual meat press eliminates the tiresome, time-consuming portion pounding of your chicken, fish, pork, or veal. The consistent thickness that results from using this product enables consistent cooking time and presentation.
Products In This Video

Related Videos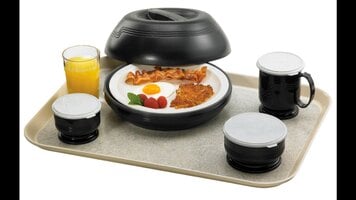 Cambro Non Skid Serving Tray
This video demonstrates all of the amazing benefits of the non-skid Camtrays and how it can save tons of trash every year with substantial cost savings!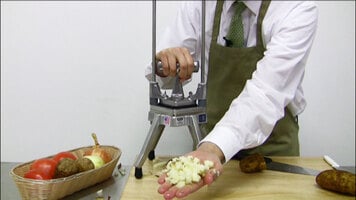 Vegetable Dicers
Dicing vegetables for soups, salads, and your signature dishes has never been easier! Use the Nemco N555000-1 Easy Chopper to save time and labor as you quickly slice and dice onions, tomatoes, potatoes, celery, and more. Nemco Blooming Onion Cutter
Blooming onions are a great way to boost profits at your restaurant! With one stroke, you can make the perfect flowering onion with the Nemco blooming onion cutter!