Hey everybody, and welcome to the ACP culinary center. I'm chef Homunk and today we are going to be talking about the differences between commercial microwaves and residential microwaves, and why you should buy a commercial microwave for your food application. First we want to talk about the differences on how they're made and constructed. A commercial microwave is meant to be used between 50 and 200 times a day, while your residential microwave is only meant to be used between 3 and 5 times a day. When you think about it, how many times a day do you use your microwave at home? Probably a couple times for lunch, maybe a few times for dinner, but overall, probably not more than 5 times per day, and the oven is built to reflect that amount of usage. When you look at the components for the oven, the commercial microwave is built to be stronger and be able to withstand the heavy use. The door latch on the oven is stronger so it can withstand the 50-200 times a day usage, as well as the cooling fan on the side of it is different than the residential. It's more robust, which means it moves air around the cavity more, and cools down the components which means they are going to last longer over time. And also the transformer between these two ovens is a lot different. The transformer for the commercial oven is a lot stronger, which means its going to have an even power supply to the oven which will make even cooking results for you every time. Now we are going to go from how they are made to the way they work. With the commercial oven, the microwave is fed into the top and it's distributed by stir guide so its spread into the cavity which makes it even, consistent cooking every single time. For the residential oven, it utilizes a dump feed method, which means all the heat is dumped into one spot, into the cavity, the food has to rotate on a carousel, or turn table, so the microwave doesn't get one spot on the food, it gets circulated as the plate turns. Commercial microwave, you don't have to use that. You just put the food in, press the button and it cooks. So we will go from the actual way it cooks to the control panel. When you look at the control panel, it's sleek, it's streamline, the buttons are big, it's easy to use. So again, you just put the food in the oven, touch one button, and it starts cooking. With the residential oven, the buttons are small, usually when you put the food in you have to actually program it, which slows down your operation and your kitchen. And the last topic we want to hit on is the serviceability between the two ovens. If something breaks in the residential oven, more than likely you're just going to have to scrap it and throw it away. But with a commercial oven, if something breaks, you usually just service that one component that broke and have the oven back up and running. So just to recap the differences between the commercial oven and the residential – the commercial oven is more robust, is meant to be used more times a day, cooks more evenly because of the way it is distributed, it is easy to use because of the control panel, and if something does happen to break, you can easily fix it so you won't have to buy a new oven. You'll have to buy a new oven a year if you use a residential oven. You won't have that issue if you use a commercial oven. And if you have any questions about the differences between the residential and commercial, go ahead and give us a call. Thanks for stopping by.
Commercial microwave ovens are designed to be used 50-200 times per day while residential models are only built to be used 3-5 times per day. This is only one of many reasons you should buy a commercial microwave for your foodservice establishment.
Related Videos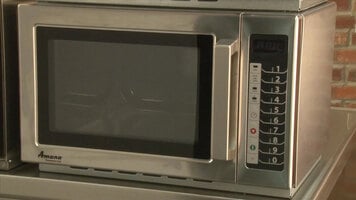 Amana Medium Volume Ovens
Learn all about the features and programming of Amana's medium volume microwave ovens. With exclusive benefits such as programmable key pads, staged cooking, and more, you're sure to find an Amana medium volume microwave that best suits your needs.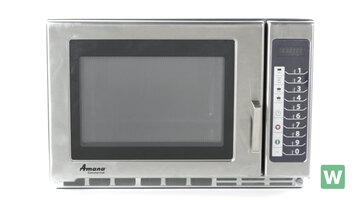 Amana RFS12TS Commercial Microwave
The Amana RFS12TS saves you time and space, but does not sacrifice power. With a host of features, this microwave is sure to be a workhorse in your kitchen.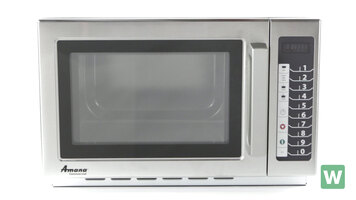 Amana RCS10TS Commercial Microwave
One of the sturdiest commercial microwaves available, the Amana RCS10TS features 1000w of cooking power and a durable stainless steel body for ultimate performance in even the busiest kitchens.