Welcome to the ACP Culinary center I'm chef Tony Aguirre, Today I would like to talk to you about the OnCue. The OnCue is a straight microwave oven, it offers 2,400 watts of straight microwave. Now it has a couple different unique features. One of them being that the door slides up and down as opposed to sideways. Now this creates a lot more efficient space in usage and also you don't have doors opening into your aisles when people are walking by while you're working. Now the other thing with this oven also is that it has a jigsaw design. So you can put two of these back to back on a 30 inch shelf, creating a double sided work space, again just making it more efficient in your kitchen. What I would like to do right now is show you how the oven works. And actually I'm going to do a breakfast sandwich, so i place the sandwich in the oven, as you can see I'm going to close the oven and press the program key all in one motion and the door will pop up by itself. Now as far as accessories with this oven, you can use several different accessories, as long as they fit in there. You can use just a regular 9 inch plate, a quarter size pan, a sixth pan, a bowl or anything else. As you can see the door just popped right open. your food is done, your cheese is melted and the food is ready to go to the table. Now as far as cleaning, it's really easy to clean the oven. The door actually pops up so you can clean right in here. The splash guard in the inside, also pops down, if you need to pull it down, all you need to do is wipe it. So what I will do right now is show you right in between the cavity and the wall, that space should just be cleaned it can get dusty, so all you need to do is find something that is flat. I'm using a spatula in this case and a towel, and I'm just going to slide it right inside that groove on either side of the wall and cavity, and make sure that's clean. Now I'm just going to use some soapy water to clean the oven. And I will wipe the inside of the oven. Again I'm just using regular soapy water. The bottom and the sides. And I can just wipe the outside of the oven using the soapy water. That is a really basic introduction to the OnCue oven. It's a very fast oven 2,400 watts, this breakfast sandwich only took 20 seconds to heat up to temperature which is extremely fast. My name is chef Tony Aguirre thank you for stopping by the culinary center.
The OnCue microwave oven packs 2400W of pure microwave power! It also features a door that slides up and down, a unique jigsaw design, and an easy-to-clean surface, that will allow you to maximize space and efficiency in your kitchen.
Related Videos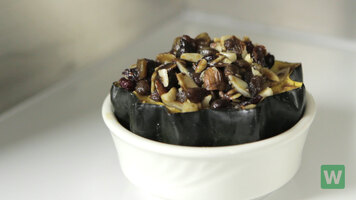 Amana RC22S2 Commercial Microwave
If you are looking for a heavy duty commercial microwave for your restaurant, look no further than the Amana RC22S2. Excellent durability and a variety of features make this the perfect microwave for any operation.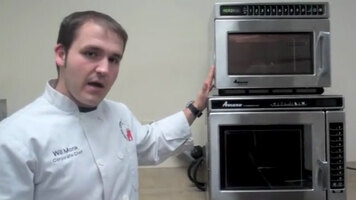 Steaming In The HDC21 and The RC30
If you're planning to use your oven for steaming, it's important to purchase an oven with over 1800W of power. Both the HDC21 oven and the RC30 oven offer the power as well as other great features that are demonstrated in this video. Noble Gloves - Proper Use
In this video, we go over how to use Noble Gloves properly and most effectively; including how to properly remove these gloves. Proper wearing and removal of gloves can prevent cross contamination and keep your employees and customers safe.