Conducting a Demonstration with the AXP-MXP22 Welcome to the ACP culinary center, I'm chef Tony Aguiar and today we are going to be talking about conducting a demonstration. Conducting a proper demonstration is very important because that is really how your customer will view the oven and its function. Now, it is really important that you do your homework before the day of the demonstration by knowing your customer. Now maybe the customer called you or you called the customer, but in either case you need to know a little bit of background about the customer. What type of food are they looking for? What are their expectations, not only of the oven but also of the demonstration, which is pretty critical because you really need to know both, the oven needs to also be performed but you need to know what they are looking for. Now there are certain different questions that you should be asking yourself before the demonstration. Things like how many people are going to be there, now that is really important not only because you want everyone to get a sample of what you are cooking, but also you need to know: how many plates do I need to bring, how many napkins, forks? You want everyone to get a sample because the people there are going to be decision makers about the oven and whether they will make a sale or not. Now, is the customer going to be supplying the food or are you bringing the food yourself, in either case you should try to get food in advance and do some pretesting so you can see how the product turns out and you can maybe do some tweaking before the actual day of the event, just to make it go smoother. Is the customer going to have the electrical requirements needed for the oven you are testing? Whether it is a microwave or the axp mxp oven, you need to make sure that the electrical is going to be there before the day of your event. Are you bringing the oven yourself or is the oven being shipped. All kind of important things, you want it to go as smoothly as possible. The other thing that is pretty important is what state is the food going to be cooked in? Is it fresh, is it going to be frozen, is it refrigerated? You don't want to be testing fish from frozen if you customer will be serving fresh fish. You don't want to be testing a 4 oz portion if their portion is going to be a 12oz. So as much detail you can get before the better it will be and the smoother your event will run. Also the accessories. Do you need a pizza stone, are you going to just need a sheet pan or pizza screens. There are a lot of different accessories from ceramic plates to sheet pans and so forth, just knowing what it is you need to bring with you or bring a couple of extra different items with you to show the customer versatility. But knowing what it is that the customer is going to be cooking is really going to be really important. Now knowing your equipment, the more comfortable you are with the equipment you are going to be selling, the better it is going to translate during your presentation. Now take for example, the axp mxp which is a high speed combination oven, knowing the different energies, knowing how they work, knowing the different features of the oven. That's going to be really important in passing that along to your customer. The more information you know in advance the better it's going to be the day of because you will have more time to answer questions that your customer might have. One of the key things about doing a demonstration is being able to tell people about the different application the oven is being used in. Again using the axp mxp as an example, if you were demonstrating for a convenience store, it is important you know other convenience stores out there, who some of the other customers are, who is using the oven. People don't like to feel like they are the first ones to buy this particular oven that you are testing. They want to know that there are other people out there using it and its successful and it works every day and nothing goes wrong with it. Doing a brief overview of the oven specifications and those can be found on the back of brochures, not going into too much detail but just touching upon it. Proper cleaning in any piece of equipment is critical. It is going to be especially critical when you start looking at ovens like these, high speed combination ovens and it will prolong the life of the oven and ensure proper working of the oven day after day so you don't have issues with them. One of the things you should also do is allow for questions and answers. Now questions and answers can come during any time of the presentation, usually people wait till you are done with the presentation but judging from my own experience they can come at any point of the presentation even at the beginning before you even start your presentation. So have some questions in your head, what kind of things can they ask, do I know the piece of equipment and how well can I answer those questions. So what are some of the different energies and what do they do, what is microwave do in an oven like this or in another oven how does it affect my food, what does it do for my food. How does an oven like this one, a high speed combination oven, what is the force there the infrared coil at the bottom what does that do to my food or to my product. How does the oven compare to our competitors, what makes us different? We are there for a reason, what is different about our oven why should the customer buy our oven as opposed to our competitors, a very common question. Who uses the oven, going back to applications. No one wants to feel like a guinea pig out there and really the only ones using the oven so knowing other people who use it is a really important part of it. Does the oven require a hood, if you are using regular microwaves no. if you are using an oven like the axp mxp, yes that is a frequently asked question. Now this is KLZ certified so it does not need a hood, it is still something you should still check with your local health department and your building inspectors to make sure that for the state or location you are in it still meets all the requirements. What involved with cleaning, do I need special chemicals, do I only have certain chemical to use on this oven or another oven or what do I clean it with a sponge a scowering pad, and so forth. Knowing those in advance. Using metal pans as different accessories. What can I use what can I not use. And one of the things that is becoming more and more frequently asked is are just energy consumption. Are these energy efficient. How much energy does it consume while its working or at its idle state . Now there are many different reason why a company choses a particular company to go with or a particular oven. It is really up to the person doing the demonstration to get across why hey need a particular oven, how can it benefit them, what can this oven do for them that other ovens can't, how can this oven help their process their operation, how can it make it more efficient and speed up their service, decrease their food waste, reduce their labor…those are all things you need to point out to the customer. How can we make your operation better by using this oven. So overall the important thing is to be prepared, doing your homework. Just a recap, doing your homework before the demo, know your customer, know the equipment, you can go online you can visit the customers restaurant, know their expectations, know what they are looking for in the oven and also during your presentation. I'm chef Tony Aguiar and till next time, thank you for stopping by the culinary center.
The two most important pieces of advice to remember when you are planning to give a demonstration for the AXP-MXP22 combination oven (or any product) are: know your audience and know your equipment.
Related Videos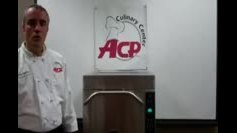 AXP-MXP22 Touch Panel Symbols
This video provides you with a quick overview of the symbols on the touch panel display of the AXP22 oven.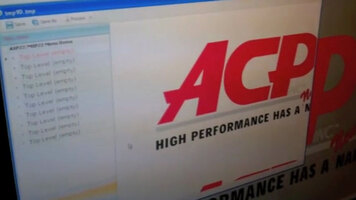 AXP-MXP22 USB Programming Software
One of the new features of the AXP22 oven is the USB port. This USB port requires you to download the USB programming software. This video will walk you through how to download, set up, and upload all of your settings from computer to oven.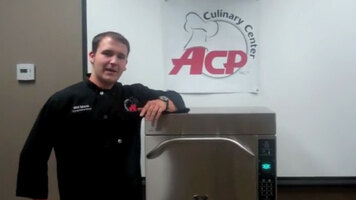 AXP-MXP22 User Options
If you would like a brief overview of how to utilize the user options of the AXP22 oven, then check out this video. There are 17 different user options so that you can customize this oven to your individual kitchen needs!