Today, I'm going to show you how to make some terrific margaritas with our Margarita Madness Blender. We actually shoot our videos in a church, so I'm going to make these virgin but they're made basically the same way as a regular margarita just minus the tequila. All I need to do is fill the blender about two-thirds full with ice and add about a third of a bottle of this Finest Call Margarita mix. Now don't be fooled by the low price of the Finest Call Mixes, these mixes compare to premium bar mixes in quality and flavor. Now, I'll just secure the top and you can see how fast this 1.5 horsepower Margarita Madness Blender blends these drinks completely smooth. I'm going to pour out the drink into these glasses that I've already rimmed with our Twang brand margarita salt. I used the lime flavor—which I love! We have many different really cool options for margarita glasses but this one's my favorite. If you love frozen drinks, you'll find the items used in this video in the links below.
If you love frozen drinks (and especially margaritas!), then our Margarita Madness blender is a must-have! See just a few of the margarita mix, glass, and salt options we have to choose from as well.
Related Videos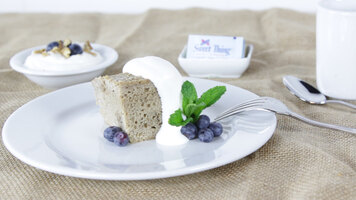 How to Bake a Cake Using Old Tyme Mills Cake Mix for Sheet Cakes
Watch this video to learn how to use Old Tyme Mills Cake Mix to make perfect sheet cakes! Frymaster E4 Series - Overview
This video provides you with a general overview of the newest features of the Frymaster E4 Series fryer, and will show you how to properly begin using your Frymaster E4 Series fryer. The ACE14 Jetwave Demonstration
The ACE14 Jetwave oven uses 1400W microwave energy to cook foods 4 times faster than a traditional oven. With a temperature range from 200-475 degrees, this oven is extremely versatile, too. Plus, it allows you to preprogram up to 100 dishes!