Today, I'm going to show you how to make some terrific margaritas with our Margarita Madness Blender. We actually shoot our videos in a church, so I'm going to make these virgin but they're made basically the same way as a regular margarita just minus the tequila. All I need to do is fill the blender about two-thirds full with ice and add about a third of a bottle of this Finest Call Margarita mix. Now don't be fooled by the low price of the Finest Call Mixes, these mixes compare to premium bar mixes in quality and flavor. Now, I'll just secure the top and you can see how fast this 1.5 horsepower Margarita Madness Blender blends these drinks completely smooth. I'm going to pour out the drink into these glasses that I've already rimmed with our Twang brand margarita salt. I used the lime flavor—which I love! We have many different really cool options for margarita glasses but this one's my favorite. If you love frozen drinks, you'll find the items used in this video in the links below.
If you love frozen drinks (and especially margaritas!), then our Margarita Madness blender is a must-have! See just a few of the margarita mix, glass, and salt options we have to choose from as well.
Related Products

Related Videos
Noble Gloves - Overview
This video gives you an overview of what Noble Gloves offers. These versatile, food service-grade gloves can be used to protect hands in almost any situation and come in multiple sizes and styles so you can provide your employees with the perfect fit
Avantco W53 Step-Up Coffee Decanter Warmer
An Avantco W53 step-up coffee warmer's step up design saves counter space and energy with its separate power switches. Not only is this product ETL and UL sanitation listed, but it allows you to always have hot coffee on hand for your customers!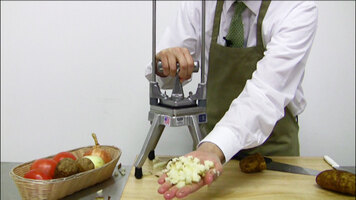 Vegetable Dicers
Dicing vegetables for soups, salads, and your signature dishes has never been easier! Use the Nemco N555000-1 Easy Chopper to save time and labor as you quickly slice and dice onions, tomatoes, potatoes, celery, and more.