Hey everybody, welcome back to the ACP culinary center. I'm Chef Homunck and today we are going to be talking about the AXP programming software. To find this program and software, just go on the ACP website which is at ACPsolutions.com. It will be located on the AXP product page, its titled AXP Programming Software. So once you get it downloaded from our website, on your screen it will appear as ACP Remote Programming Interface. So you click on the interface, it will pop up and what you'll first want to do is select a new program, go to new and select the oven, AXP22, then this is the menu that will appear. So as it appears right now it is in 3 levels. It has the top level, a mid-level, and the recipes. So you just click on the arrow and it will drop down from there. So first what you'll want to do is name your top level, so we will name our top level "Pizza". Then you'll go to the second level and name that level "single topping". Then you will want to label the actual recipe so we will call the actual recipe "cheese". So what we are doing is we are programming a setting for a single topping cheese pizza. So to begin programming the actual recipe, first you will want to pick a temperature for the oven. So you can use the actual buttons which go up in temperature all the way up to the maximum 520, so we will leave it at 520, then you can go ahead and pick your time. So you can do your time for 2 minutes, and you can use the arrows either going up or down, or you can actually highlight the time and enter a time, so we have 2 minutes and 30 seconds and the total time is displayed at the very top. So the recipe is laid out microwave, fan, radiant, just like on your oven. So you pick a percentage on your microwave, so if you want 50%, the amount of fan, we will say 30% and the amount of IR we will leave at 100%. And if you go ahead and do this all the way down through all four stages, and they'll appear right on the screen and it will give you a total time of all the stages. Next you will want to go take a look at your user options, so down at the bottom of the screen there are some menu items and user options. So click on user options, and this has all the options that are inside the oven. Now, if you just hover over the option, a box will appear and show you what is actually there for that option. So for our menu, in 3 level, for manual cook we are allowing manual cook, and just go through all the options and make sure whichever options you want are highlighted for your setting. You can also change the preheat of the oven, from 200 up to 520 degrees. So once you like everything that's in the oven, go back to the menu and then we will go back and save this, hit save and save as, give it a name, we will call it pizza menu, and we will save that on our desktop, so now this setting will be saved on your desktop to be used at a later date. Now that the setting is saved on your desktop, you'll want to put it on your flashdrive, so you can save it to your flashdrive and take it to the oven. So you take the flashdrive and put it into the computer, and we go back into the software, it's recognized that it is in the computer now, go back the software and hit process, ASP20, pick the item you want to process, our pizza menu. Then you pick what you want to put it on, obviously removable disc, hit that, hit okay and now it's saved onto your flashdrive. So we just exit out of this, grab your flashdrive and go over to download it into your oven. Now that you have your settings saved, you're going to want to put this into the oven. So you take the flashdrive, there is a slot in the bottom, slide it into the slot, and you have to go into user options so you press and hold number 2 and that will take you to the options, you can just hit back and it will take you to the last option, option 17, and then highlight whatever you want to do. From the card to the oven, or from the oven to the card. Now we want to take our info from the card and so we highlight that, hit the book, it will say transferring, and the data is transferring into the oven, and when it is done transferring, done will display. Once done is displayed, you hit the green button, save everything, then hit the red button to take us out. Now if we view our settings we just hit the book, so our pizza program is in the oven, single topping is in the oven, and the cheese pizza is also in the oven. Our settings that we saved earlier are now in the oven. So there you go, that's just a quick overview of the AXP programming, if you do have any questions, feel free to contact us at the culinary center. Thanks for stopping by.
One of the new features of the AXP22 oven is the USB port. This USB port requires you to download the USB programming software. This video will walk you through how to download, set up, and upload all of your settings from computer to oven.
Related Videos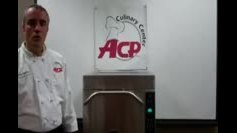 AXP-MXP22 Touch Panel Symbols
This video provides you with a quick overview of the symbols on the touch panel display of the AXP22 oven.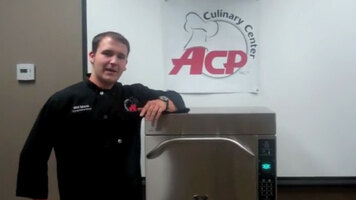 AXP-MXP22 User Options
If you would like a brief overview of how to utilize the user options of the AXP22 oven, then check out this video. There are 17 different user options so that you can customize this oven to your individual kitchen needs!
Conducting a Demonstration with the AXP-MXP22
The two most important pieces of advice to remember when you are planning to give a demonstration for the AXP-MXP22 combination oven (or any product) are: know your audience and know your equipment.