Welcome to the ACP culinary center, my name is Chef Tony and today we are going to be talking about the AXP22 display. First of all, we are just going to take the display from top to bottom, and cover all of the symbols. The first symbol we come to is the on and off key pad, and this is something that is different than previously, it's one key pad that is used for both functions, on and off. Next we have the program key pad which looks like a little book. This key pad is used to program items, edit items, delete them, into your menu, your oven. It also is used to transfer your user options, transfer data from your USB up to the oven. Also, if you're looking to program a password into your oven to protect your menu from being changed, you can. The next symbol, the next icon, is for manual cook, you just press this whenever you do any manual cooking. The next symbol it looks like a thermometer, you can use this to either check your preset temperature, or to edit your temperature. Example, is it at 310 I want it at 520, and I just hid the right arrow or accept and it changes it to 520. Next we have the up and down arrows, these are used to scroll up and down within your current menu. For example if I am in program mode I can scroll down from the delete into accept, and if I use the right and left arrows, those arrows are used to navigate between the different pages of your screens. So if I press the right arrow, it takes us to the next level, press it again it takes me to the next level, and so forth. And press the back arrow, it will take me back to the beginning to the main screen. Next we have the green key pad which is used to start a cook cycle, for example when you're in manual cook and you're finished with your settings and you're ready to start it, just press the key pad. The red key pad is used to stop and reset, so if you're in the middle of a cook cycle and you want to pause it, just hit the red key pad and it will pause the cook cycle. If you hit it again it will reset the cook cycle, but if you hit the green key pad after you've paused it, it will continue the cook cycle from where you left off. Next we have the numerical key pad, and these key pads are just used to enter information, your settings, your temperature and so forth. And also, on each key pad, you have either symbols or the alphabet; these are again used to enter information to name your items as your entering them into your oven. The space key function when you are naming your menu would be on the zero along with other symbols there.
This video provides you with a quick overview of the symbols on the touch panel display of the AXP22 oven.
Related Videos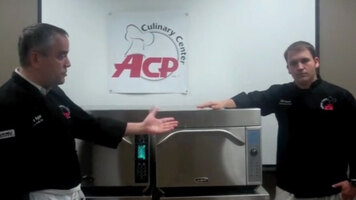 AXP-MXP22 New Features
If you thought the AXP20 was a great oven, check out the new and improved AXP22! It has convenient features such as a crisp fluorescent display and a USB port so you can download information from your computer and upload it straight to your oven.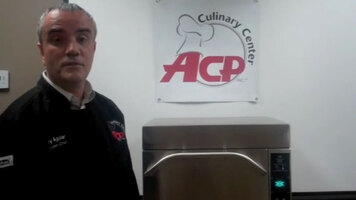 AXP-MXP22 Programming
Programming your AXP22 oven can save you valuable time in the kitchen. If you're a visual learner (or just want a little extra assistance), then this video will help you make sure you are programming items the right way.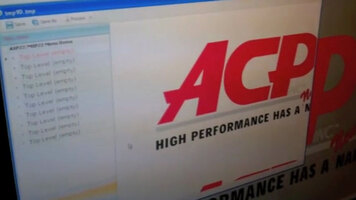 AXP-MXP22 USB Programming Software
One of the new features of the AXP22 oven is the USB port. This USB port requires you to download the USB programming software. This video will walk you through how to download, set up, and upload all of your settings from computer to oven.