Hello, I'm chef Steve Crellin. In this section, I'm talking about the iSeries of ovens, i3 and the i5. The iSeries are the most versatile ovens in the Turbochef product line. Ideal for people running concession stands, all the way up to five-star restaurants. They specialize in roasting, browning, broiling a wide variety of meats, evenly and consistently, up to 10 times faster than before with chef quality results. Now, normally in a conventional oven salmon would take 10-15 minutes. However, in the iSeries, two 8 oz. portions will take approximately three minutes. The nice thing about the iSeries, we're able to use metal pans because the microwave on the top, which gives it a nice sear on the presentation side of the salmon. Once the salmon is in I choose my category, seafood, and my item, salmon, and you're done. While the salmon is roasting in the i3, we'll roast our potatoes in the i5. You'll hear that nice sizzle because we're able to use the metal platter. These potatoes will take approximately four minutes. Again, choose your category, choose your item, and you're done. Our salmon is ready. Now while our salmon rests, and our potatoes finish, we'll roast some asparagus. Find the category, find your're item, you're done. Beautiful roasted potatoes in approximately four minutes. Asparagus, look at that beautiful color, cooked in one minute. The salmon, perfectly cooked. Turn it over and you can see those grill marks from a metal pan. A beautiful salmon dish, cooked in under five minutes. Next, we're going to heat some pasta and gratinate at the same time. The nice thing about the iSeries is that we can use metal, so we can use 2", 4", or 6" hotel pans. Normally this pasta would take 30-40 minutes, but in the i5 about five to six minutes. Again, find your category, find your item, and you're done. We were able to re-heat the pasta and glaze, or gratinate, the top at the same time. We can do that because we can increase the impingement air from the top of the oven to give us that glaze that will look nice and brown. As you can see the cheese is nice and melted, the pasta is hot. For more information, please visit our website at turbochef.com. We also have a culinary team of certified chefs that would be willing and able to help you if you have any culinary questions. Please send us an email at chefs@turbochef.com.
The iSeries oven is the quickest, most versatile oven offered from Turbochef. Here, Chef Steve Crellin will cook salmon (which would normally take 15 to 20 minutes) in 3 minutes! In fact, you can watch him cook a whole dinner in under 5 minutes.
Related Videos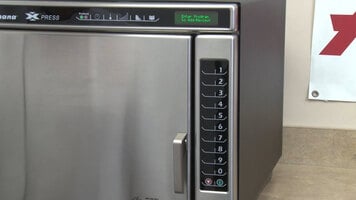 Amana Xpress ACE14 Jetwave High-Speed Oven: Programming
Learn how to program your Amana Xpress ACE14 Jetwave oven with these easy steps! It can be programmed manually, with a USB flash drive, or with Wi-Fi.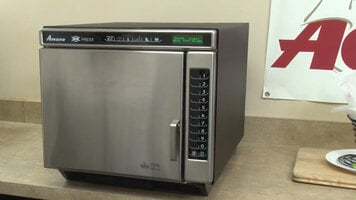 Amana Xpress ACE14 Jetwave High-Speed Oven: Overview
Offering custom menu creation with over 100 programmable menus, the Amana Xpress ACE14 Jetwave high-speed oven is perfect for cafes, supermarkets, and convenience stores. Watch this brief video to learn more!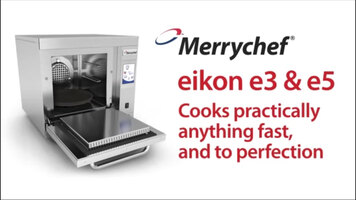 Merrychef eikon e3 and e5 Combination Ovens
Learn about the features and benefits of the Merrychef eikon e3 and e5 combination ovens in this informative video.