(Transcript Unavailable)
The iSeries oven is the quickest, most versatile oven offered from Turbochef. Here, Chef Steve Crellin will cook salmon (which would normally take 15 to 20 minutes) in 3 minutes! In fact, you can watch him cook a whole dinner in under 5 minutes.
Related Videos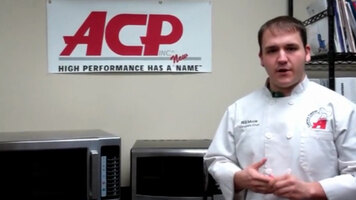 Why Buy Commercial Microwaves
Commercial microwave ovens are designed to be used 50-200 times per day while residential models are only built to be used 3-5 times per day. This is only one of many reasons you should buy a commercial microwave for your foodservice establishment. Pacific S-20 Auto Scrubber Overview
This video gives you an inside look at all of the features and benefits of the Pacific S-20 auto scrubber that make it an excellent choice for your floorcare needs! Pacific Triumph 1190 Self-Contained Carpet Extractor
This Pacific Triumph 1190 Self-Contained Carpet Extractor offers high performance at an affordable price. In fact, a national independent testing group rated it "Best in Class" and in the top 1% of all extractors!