Save time and money with the Robot Coupe R-301 Ultra Series D food processor. It chops and blends vegetables, but can do seasonings and meats as well. A simple locking lid keeps the contents inside the processor, but also features a small hole to pour liquids inside. The vegetable prep attachment allows for shredding, dicing, chopping and slicing vegetables.
Robot Coupe's R-301 Ultra Series D is designed to impress! Watch this video to see what kinds of special features lie in store for you when you purchase this highly efficient, time-saving vegetable prep attachment.
Related Videos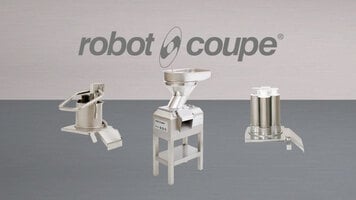 Robot Coupe CL60
This all-in-one kitchen unit makes prep work for fruits and vegetables of all sizes easier than ever before. Watch this video to see how!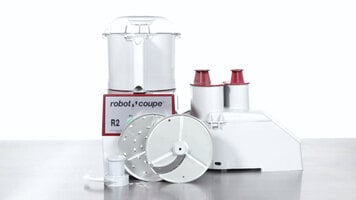 Robot Coupe R2 Series Food Processors
Learn about the various models of the Robot Coupe R2 series food processors, and see which one is best for your foodservice establishment! Find out about different color options and attachments available today!
Robot Coupe R-2 Dice Product Demo
Watch as the Robot Coupe R-2 Dice continuous feed combination food processor goes to town on peppers, onions, and fresh herbs. This product will make producing large quantities of processed food a breeze!