Take a look at how easy it is to control the Robot Coupe Blixer 6! The lid twists and lifts off with ease, as does the patented food wiper assembly, and snaps back together just as easily! Watch as she effortlessly purees meats, vegetables, rice and more while keeping the tops and sides scraped for better overall mixing with the wiper assembly. These are just a few of the things you can accomplish with the Robot Coupe Blixer 6!
This video showcases just how easy it is to use the Robot Coupe Blixer 6. Whether you're pureeing meats, vegetables, or rice, this product will get the job done.
Related Videos
Rubbermaid Collapsible X-Carts
The collapsible X-Cart from Rubbermaid is the most durable collapsible basket truck system on the market. Watch how this cart not only handles the largest loads but also collapses when not in use to keep storage areas tidy.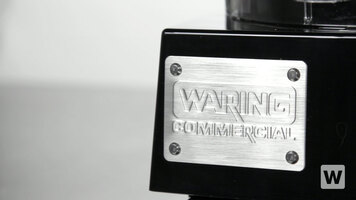 Waring WFP14SC Food Processor
Check out this video to see all the benefits of the Waring WFP14SC food processor, as well as safe and proper usage!
Commercial Ovens
Found in virtually every commercial kitchen, ovens come in many different styles to cover a range of uses. Watch this video to learn more about which ovens serve the best purposes for your business, from convection to conveyor ovens, and more!