Liquefy, grind, chop, puree, and emulsify all in the same unit with the Robot Coupe Blixer 3! This unit's easy-on/easy-off lid requires just one simple twist for a safe, secure closure. Push-button controls ensure ease of use with a large green "on" button and similarly-sized red "off" button. Disassembly is easy with the user-friendly Robot Coupe Blixer 3. To open the lid, just twist it in the opposite direction that you secured it with, and lift up to remove. The patented two-part plastic lid wipe assembly requires just a slight pull in each direction to release from the clear polycarbonate lid. To remove the included fine serrated edge stainless steel "S" blade assembly, lift it right out of the batch bowl. And, with a little twist, the batch bowl will release from the motor base for effortless lift-off. Assembling the unit is just as easy too! Set the bowl on the motor base and twist to secure. Place the "S" blade down over the hollow inner tube of the batch bowl and turn into place. Add your ingredients, secure the lid, turn the unit on, and twist the lid wipe handle to ensure a thorough blending takes place. Liquids, including oil and water, can easily be added to the mix during operation through the lid wipe handle's liquid feed tube. When blended/mixed to perfection, turn the unit off and you're ready for the next phase of food prep.
The Robot Coupe Blixer 3 food processor features a stainless steel bowl and "S" blade and a 1.5 horsepower motor. Watch as the Blixer 3 liquifies, grinds, chops, purees, and emulsifies its way to perfect sauces, dressings, and even ground spices!
Related Videos
Hobart FP250 Continuous Feed Food Processor
Learn how to install, operate, clean, maintain, and even troubleshoot your Hobart FP250 continuous feed food processor with this informational video!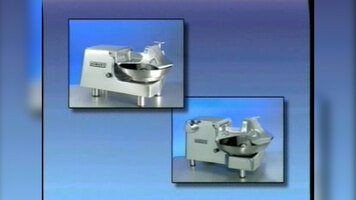 Hobart 84145 Buffalo Chopper
Easily cut and mix bulk ingredients with Hobart's Buffalo chopper! It's easy to use, clean, and maintain. Plus, it incorporates innovative devices to ensure superior safety of the operator while in use.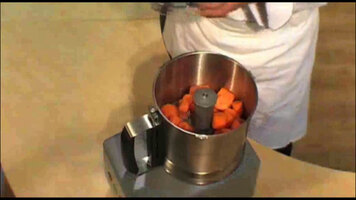 Robot Coupe Blixer 3-H
The Robot Coupe Blixer 3-H food processor is the best of its kind! Watch as the Blixer 3-H liquifies, grinds, chops, purees, and emulsifies its way through meat, carrots, noodles, beets, and much more!