Ingredient inspiration can be hard to come by in the cold winter months, but if you shift your focus toward technique the menu possibilities really are endless, case and point glazed root vegetables. It's important to cut your carrots to uniform size so that each piece cooks at the same rate. The oblique often called roll cut is very effective here allow for longer cuts at the skinny end and then get shorter as the carrot gets wider. This way all of your pieces will come out roughly the same size. To glaze your carrots we are going to add
If you're stuck in an ingredient rut during the cold winter months, shifting your focus to cooking technique can create endless menu possibilities. In this video, Mercer demonstrates the best way to make classic glazed carrots quickly and easily.
Related Videos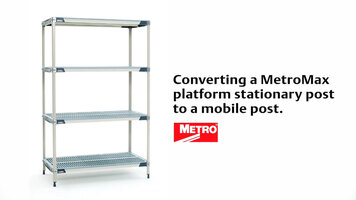 Metromax Shelving Units: Converting Platform Posts to Mobile Posts
Learn how to quickly transform your Metromax shelving unit into a mobile shelving unit by watching this video!
Hoover SteamVac Carpet Cleaner: How it Cleans
Clean up spills and stain on your carpet with this Hoover SteamVac carpet cleaner. Not only is it easy to use, it is convenient and can be used in a wide variety of areas! VonDrehle Mini Center Pull Towel Dispenser
This VonDrehle mini center pull towel dispenser is a space-saving, hands-free option for your paper towel needs. Equipped with a detachable mounting plate and flexible mounting options, this dispenser can be placed wherever you see fit.