Ingredient inspiration can be hard to come by in the cold winter months, but if you shift your focus toward technique the menu possibilities really are endless, case and point glazed root vegetables. It's important to cut your carrots to uniform size so that each piece cooks at the same rate. The oblique often called roll cut is very effective here allow for longer cuts at the skinny end and then get shorter as the carrot gets wider. This way all of your pieces will come out roughly the same size. To glaze your carrots we are going to add
If you're stuck in an ingredient rut during the cold winter months, shifting your focus to cooking technique can create endless menu possibilities. In this video, Mercer demonstrates the best way to make classic glazed carrots quickly and easily.
Products In This Video

Related Videos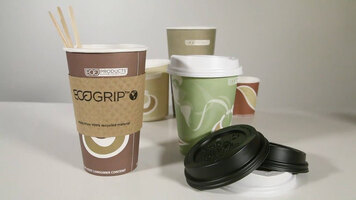 Eco-Products Evolution World Hot Cups
Check out these Evolution world hot cups from Eco-Products! Made of 24% post-consumer recycled fiber, you'll be making an eco-friendly choice. Available in a variety of sizes, these cups are perfect for your hot beverage service!
All-In-One Popcorn
With All-In-One popcorn, making your customers' favorite snack has never been simpler! Check out this video to learn just how quick and effortless it is to make perfect popcorn every time with All-In-One popcorn.
Features of the Avantco SCLM1 27-inch Megatop Prep Table
This Avantco SCLM1 27" Megatop Prep Table is perfect for preparing all of your sandwiches and salads! Learn about this feature-rich table and how it will provide you with the convenience and durability you need in your busy restaurant kitchen!