Tuna is both a simple protein to prepare and a rewarding fish to serve, when handled properly high quality tuna healthy flavorful and beautiful. Begin with a trimmed thick center cut piece of tuna loin. Put your pan over high heat and turn your exhaust fan on. Add a high smoke point oil and give it twenty seconds to heat up. Before your oil begins to smoke carefully place the tuna into the hot pan some chefs choose not to season the fish before searing as the salt pulls out moisture and inhibits brown color from developing. Leave it to sear until it develops a beautiful brown crust usually about 30 seconds but it could be more or less time. It all depends on your burner. Once all sides are brown remove it from the heat and allow it to rest for a few minutes before slicing.
When handled properly, high quality tuna is healthy, flavorful, and beautiful. Tuna is both a simple protein to prepare and a rewarding fish to serve. In this video, Mercer describes how to prepare a perfectly seared tuna.
Products In This Video

Related Videos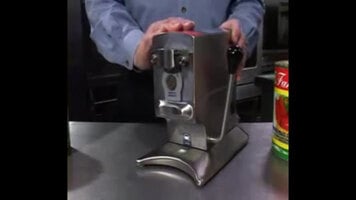 Edlund 270 Electric Can Opener Instructions
Learn how to operate, maintain, and disassemble this heavy duty can opener!
Lincoln Impinger Oven 1400 Series: Basic Operations
The basic operations of the 1400 series ovens from Lincoln are covered in this video, from the basic functions on the control panel to standard operating procedures.
Troubleshooting Faucet Leaks
A leaky faucet can increase your water bill by hundreds of dollars per year. In fact, 1 drip/second equals about 3,000 gallons/year! Luckily, most causes of leaky faucets are easy to diagnose and inexpensive to repair. Watch this video to learn how!