Waring MX Blenders are some of the most powerful blenders on the market. Great for blending anything from food to bar drinks. Today we're going to make a healthy smoothie with our MX blender. Okay, I'm going to get a start on this smoothie by just cutting the tops off of these strawberries here. Now I'm just going to peel and break up this banana. You can use whatever fruits you like, but I love the strawberry banana combination, and the bananas add a lot of potassium. Now before I go ahead and put the ingredients into the container here, I just want to mention a couple of things about the Waring MX. First of all, this is 3 ½ horsepower. Most of the units that you see demonstrated at your warehouse clubs are only about 2 horsepower, so this is more powerful than those. Another thing is that this has a very sturdy base with rubber feet. It will not slip. Also, it is fairly quiet for a unit this size. One of the things I like about it, being a former bar tender and smelling that burnt rubber, is that if you look here at the bottom you'll see that this is metal right here, and also this grabs the blade with metal teeth here. That all metal assembly will keep this MX blender lasting a long time. Now let's add our ingredients. We'll toss in our strawberries and bananas, and then we'll add in some ice. After that, let's throw in some wheat germ for a little extra fiber. Then we'll add our orange juice to help this thing blend smoothly and give us a little more vitamin C. Then after that, we're going to add a little extra flavor with our DaVinci, sugar free white chocolate syrup. This just gives this smoothie a little extra kick. Now you can see the power of the MX blender as I flip this switch, and you can see how it crushes this ice completely. Everything becomes completely smooth. And you can see, especially as I pour, how smooth our smoothie actually is. We have all different types and styles of MX blenders. If you have any questions, please feel free to use our live chat button.
With its 3 1/2 horsepower, the Waring MX blender is great for blending everything from food to bar drinks! Learn how to make a great strawberry-banana smoothie with the Waring MX blender.
Related Videos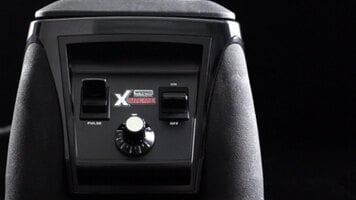 Waring MX1200XTX
Blend like never before with the Waring MX1200XTX Blender. From peanut butter to tapenades, this will be your new go-to in the kitchen!
Waring MX1050XTX Commercial Blender
Learn the ins and outs of the Waring MX1050XTX commercial blender!
Waring MX1000XTX Commercial Blender
Learn the ins and outs of the Waring MX1000XTX commercial blender!