Hi Felix here with Cambros Hand Sink Cart. This self contained cart is design to reduce the risk of dirty hands contaminating food. The hand sink contains a double sink, two 5 gallon fresh water tanks, and two 7 gallon tanks for dirty water. This is enough for up to 70 hot or cold hand washings. The paper towel roll holder and the soap dispenses are also included with the cart. The internal hot water heater can heat 2.5 gallons of water in as little 10 minutes. This cart sends the right message that you are serious about serving safe food. Made from polyethylene, this cart will not break, bubble, chip, crack, or dent. The water pump is NSF approved and the cart is available with a ADA faucet. You can choose from a 110 volt or a 220 volt model.
See how the features of this Cambro Hand Sink Cart will help reduce food contamination by encouraging frequent hand washing for your employees! The 5 1/2 gal. fresh water tanks and the 7 1/2 gal. waste water tanks will allow up to 70 hand washings.
Related Videos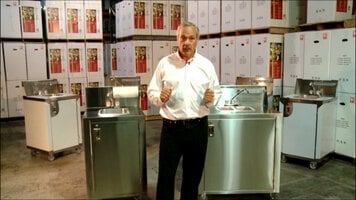 Features of Crown Verity Portable Sink Carts
The wide variety of features and options of the Crown Verity Portable Sink Carts make these sinks perfect for all kinds of indoor and outdoor food preparation. This video will show you each of these features and how they will benefit your business! Avantco EG24 Griddle
This video describes the features of the Avantco EG24 countertop griddle, an indispensable piece of cooking equipment! Discover if this griddle is right for you, and also learn some tips for proper cleaning. How Durable are Gold Medal Products
Gold Medal products are designed to withstand repeated use without sacrificing quality or performance. Check out this video to see how durable a sno-kone machine can really be (but don't start doing this to yours!)