Hi Felix here with Cambros Hand Sink Cart. This self contained cart is design to reduce the risk of dirty hands contaminating food. The hand sink contains a double sink, two 5 gallon fresh water tanks, and two 7 gallon tanks for dirty water. This is enough for up to 70 hot or cold hand washings. The paper towel roll holder and the soap dispenses are also included with the cart. The internal hot water heater can heat 2.5 gallons of water in as little 10 minutes. This cart sends the right message that you are serious about serving safe food. Made from polyethylene, this cart will not break, bubble, chip, crack, or dent. The water pump is NSF approved and the cart is available with a ADA faucet. You can choose from a 110 volt or a 220 volt model.
See how the features of this Cambro Hand Sink Cart will help reduce food contamination by encouraging frequent hand washing for your employees! The 5 1/2 gal. fresh water tanks and the 7 1/2 gal. waste water tanks will allow up to 70 hand washings.
Related Videos
Pacific S-20 Auto Scrubber Overview
This video gives you an inside look at all of the features and benefits of the Pacific S-20 auto scrubber that make it an excellent choice for your floorcare needs!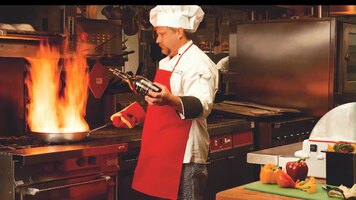 San Jamar Dome Stackers Product Video
Keep condiments, napkins, and more at your fingertips with San Jamar domes, mini domes, and dome stackers! From coffee stations to salad bars, these items are versatile, innovative, and sanitary additions to your restaurant.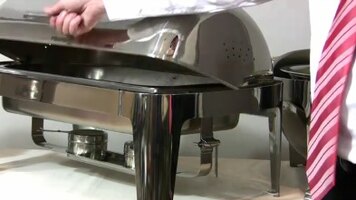 Supreme Chafer
With their extra heavy construction, large size, and simple and elegant styling, these supreme chafers will really make a statement! Featuring a lid that rotates up to 180 degrees, these chafers are perfect for both dual and single-sided service.