Hello my name is Ken Megarr and I head up the research and development test kitchens for Panasonic. Today we are going to be demonstrating the use, care and operation of the Panasonic sonic steamer. The sonic steamer is the only connection-less steamer powered by microwave technology that can accommodate 2, 4 inch deep hotel pans with covers. As a connection-less steamer, it does not require a water line, drain line, vent hood, or fire suppression. There are two models of the sonic steamer, the NE-3280 model with 3200 Watts of cooking and steaming power and the NE-2180 with 2100 watts of cooking and steaming power. Both models have the same features and operate much the same way. Before cooking, here are some steaming basics. First, always use polyetherimide or similar pans, able to withstand high temperatures. Always cover the products while steaming. This accomplishes several things: it maintains the steam inside the pan keeping foods moist, event eh cooking temperatures in the pan keeping with USDA guidelines, it speeds cooking and shortens cooking times, and it helps to keep the inside of the Sonic Steamer clean. By following these steaming basics, it will guarantee a high quality finished product. Fresh broccoli should be rinses and drained, we will place it in the pan and cover. There should be several ounces of water in the corner of the pan. To stem 3 pounds of fresh broccoli, we close the door and press the power pad. High power will come up in the window, dial the timer clockwise till 3 minutes comes up in the display and press start. A good rule of thumb with the Sonic Steamer is about a minute per pound. At the end of the cooking cycle, the oven will sound and zero will show in the display. Open the door and move the pan out onto the door. When you remove the cover, remove it away from you and let the steam escape. Now notice the brilliant green color, Cornell studies have shown that foods steamed in the Sonic Steamer, retain up to 7 times more water soluble nutrients than any other cooking method. Take a look by comparison, this is the way is started and this is how it finished. Perfectly steamed broccoli in 3 minutes. If you want perfectly steamed bulk vegetables, seafood and more, you've found the best place to shop for the Sonic Steamer. Sonic Steamers cook fast and steam perfectly. They require no plumping and they are easy to clean, but best of all they sell for hundreds less than traditional steamers. We also have a full line of high heat plastic pans at incredibly low prices.
The Panasonic Sonic Steamer is the only connectionless steamer powered by microwave technology that can accommodate two 4" deep hotel pans with covers, making it a great and easy way to cook vegetables, seafood, and more at your restaurant!
Related Videos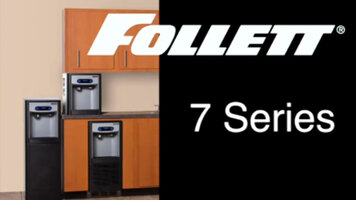 7 Reasons to Use the Follett 7 Series Ice and Water Dispensers
Learn the seven major reasons why you should choose a Follett 7 Series ice and water dispenser for your office or guest area!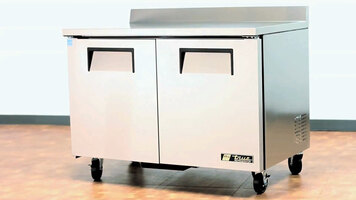 True TUC/TWT-48 Refrigerator
Learn the ins and outs of True's TUC-48 and TWT-48 undercounter and worktop refrigerators!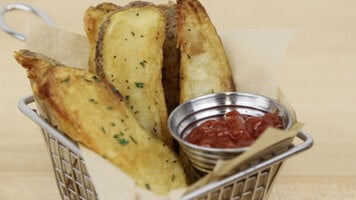 How to Use a French Fry Cutter With a 6 Wedge Blade
Serve delicious french fries with this 6 wedge blade french fry cutter! These step by step visual instructions will show you how to use, clean and maintain your restaurant french fry cutter, and keep it running like new.