With quality construction and innovative designs, Lifetime products create a variety of Lifestyle products to meet your needs and have revolutionized the folding tables and chairs industry. Seating up to 8 people comfortable, the Lifetime round 60" folding table is ideal for homes, offices or conference centers. This table exceeds the strength and durability needed for demanding commercial use. They are perfect for banquets, meetings, or your next big event. Constructed of high density polyethylene, Lifetime 60" round folding table is stain resistant, easy to clean and provides superior strength and durability. The table top is UV resistant and will not crack, peel, or chip which is perfect for indoor and outdoor use. Our heavy duty table tops feature an innovative tack-off pattern that provides extra strength and rigidity across the length of the table while maintaining a convenient lightweight design. Lifetime tables have a durable steel frame that provides a sturdy foundation for the table. The powder coating gives the table a great all weather finish. It prevents scratching, rusting, and corrosion and protects the steel frame from UV damage. Lifetime also offers matching chairs and transportation carts. If you plan to use our tables for large events, take a look around and you will see Lifetime tables and chairs everywhere: homes, churches, offices & your next group gathering. Whether it's a meeting banquet or a large public event, Lifetime tables helps you work, play, gather and celebrate the way you live.
See how this Lifetime 60 inch round folding table is perfect for your home, office, conference center, or banquet hall. It is stain resistant, durable, and easy to clean, making it your go-to table for any event!
Related Videos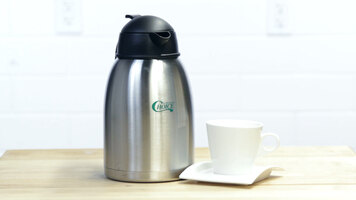 Choice Insulated Thermal Coffee Server
This Choice 1.9 Liter stainless steel, vacuum-insulated coffee server keeps your beverages at the ideal temperature whether you're topping off a hot cup of coffee or pouring a glass of refreshing iced tea! It's very durable and comfortable to use.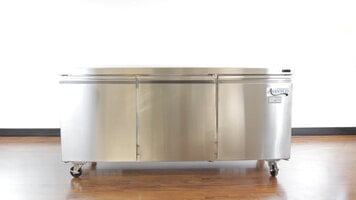 Avantco TUC72R Undercounter
To learn about the many features and benefits of the Avantco TUC72R undercounter refrigerator, check out our short video! How to Make Caramel Corn
This video shows you how easy it is to make delicious, customer-pleasing caramel corn using Gold Medal's Corn Cooker Mixers!