Whether you have a bakery, a deli, a butcher shop, or even a stand in a farmer's market, you know that a legal for trade scale is an essential tool for your business. In fact, it's an essential tool and even a required one for anyone who sells product by weight. The Tor Rey LPC40L is an inexpensive and easy to use tool for just that task. Let's take a look at the use and function of this Tor Rey scale. When you get your Tor Rey Legal For Trade Scale home, you're going to want to go and plug it in. As it does have a rechargeable battery, you'll need to charge it the first time, or you can just run it off of the A/C power. Right underneath here is a little nut and you can just plug that in right there, plug the other end into the wall, and turn it on. You'll be able to see this display here. It's very easy to read and very bright, and you can see on the other side you have a similar display for your customers as well. Let's go ahead and take a look at some of the functions on this machine. The next function I want to show you is the "fixed price" function. This is fantastic for in the beginning of the day when you want to pre-pack a bunch of product that has the same price. What I'll do is go ahead put the product on first and I'm going to hit 489 again. This time I'm going to hit "p-pack"; there is a little "p-pack" button right there. You'll see when I do that another arrow comes up here. So I'll go ahead and take that off, and if I put it back on again you'll see that the price remained right in there. I can keep doing that until the time that I hit "C" to cancel that out. The final feature that I want to show you is the "price add up" function. This is a great thing for when you have a customer that is up to your stand buying several different items at once. It just makes it much easier to do. I'm going to go ahead and put my turkey breast on the scale, and I already had this price programmed in on "M1". I did that, so I'm going to hit "M+" key right here, and take this off. Now let's say they wanted to buy some ham, and this ham is more expensive. I'm going to make this $9.50 per lb for this ham, and I'm going to hit "M+" again. Now let's say that's all they needed, and once I take the weight off I'll hit "M+" one more time and we'll see that they are going to owe me $4.40. It's very simple. When you're done with this, you just hit "C" and we go back to zero.
This Tor Rey LPC40L legal for trade scale is an essential, and even a required tool, for any business that sells product by weight. Check out some of the innovative features such as the fix price function and the price add-up function!
Related Videos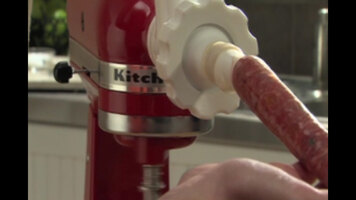 KitchenAid Stand Mixer Sausage Stuffer Attachment
This video gives you a look at the sausage stuffer attachment for KitchenAid stand mixers - a great and easy way to make fresh, tasty, homemade sausage!
Lincoln Impinger Oven 1300 Series: Troubleshooting
Troubleshooting with the 1300 series Impinger ovens from Lincoln. This video offers an overview of diagnostic messages as well as what you can do to ascertain exactly what your oven needs done!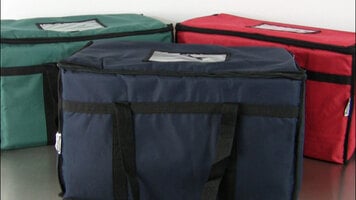 Insulated Food Pan Carrier
These soft insulated food pan carrier bags work perfectly as delivery bags or as a way to transport food to your next catered event. Durable, conveniently sized, and available in a variety of colors, these bags even fold down for easy storage!