You call this fresh? Let me show you fresh. Chef Fabrizio Bottero here introducing our new WSG30 professional spice grinder. Let me show you exactly what it does. Our professional spice grinder comes with three stainless steel bowls and lids to cover and keep everything fresh. So first thing we're going to do is do some nutmeg: very, very hard. Almost like rocks. Look at that! Okay, two of them in. Lid on, and grind. What happened to the rocks? You know what happened to the rocks. Perfect. Now, the more you grind, the finer you're going to get. Just as hard as nutmeg, cinnamon sticks are an incredible challenge for a spice grinder. Let me show you how it works. Just put three of them right in the bowl. And the nice thing about this, you can also have a pulse. The flavor is coming right out. You can see the spices turning and grinding to a powder. Fresh! Fresh! Any hard spices in the world, you name it, we'll grind it, and the flavor will be fresh! Now, when I have some pasta, or some pizza, what is better than beautiful, red hot pepper flakes? Two seconds. Really. Let me show you. Voila! Again, the pulse feature and then on... and it's done. Isn't that fabulous? And the flavor in here, in our spice grinder.
No spice is a match for the Waring WSG30 Spice Grinder. Watch Chef Fabrizio Bottero demonstrate how even nutmeg and cinnamon sticks can be turned into a fresh, fine powder!
Products In This Video

Waring WSG30 Commercial Spice Grinder - 120V
Related Videos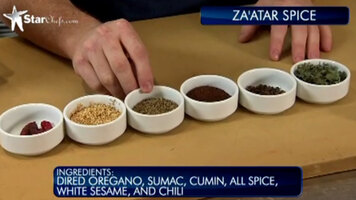 Chef Justin Bogle and Waring Products
Chef Justin Bogle shares one of his favorite recipes in this must-watch video! With a Waring food processor and spice grinder, you can also make this dish for your establishment.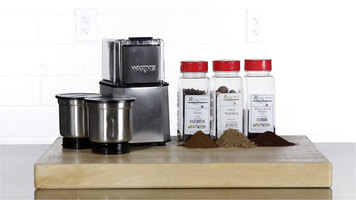 Waring Spice Grinder
Accent your creations with the tantalizing flavors of freshly ground spices by using this Waring spice grinder in your commercial kitchen! Check out this short video to hear many of the features, benefits, and uses of this spice grinder.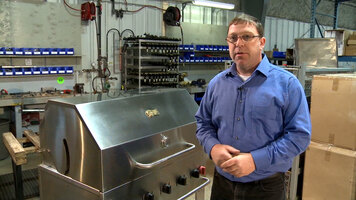 How to Prepare Your Crown Verity Grill for Repair
Watch this video to learn how to prepare your Crown Verity grill for repair!