Take blending technology to the next level with the smart blender that does the thinking for you. Summit High Performance Sensor Blender with Auto Blend from Hamilton Beach Commercial—always there, always durable—the Summit blender takes the guesswork out of blending.

Finally, a blender that's smart, the Summit's Auto Blend one-touch sensor senses when drink consistency is perfect, automatically stopping the motor. Thanks to sensor blending, any inconsistencies that might occur from improper measurements, varying ice hardness, or operator error are eliminated. And there's more. The Summit also uses the patented Wave-Action system, which continuously forces mixture down into the blades, producing a consistently smooth and creamy drink profile. No more ice chunks. Not only is the Summit blender smart, it's built for performance and built to last. The 3 horsepower precision motor with an all-metal drive coupling has the muscle to blend even the toughest frozen ingredients. The unique air flow baffle and external cooling fans constantly circulate cool air around the motor to help prevent overheating. And the jar pad sensor automatically shuts down the motor when the container is removed, to help prevent clutch grinding. Did we mention it's easy on the ears? When lowered, the quiet shield sound enclosure significantly reduces blender noise. Your customers will love that.

With the ability to choose from hundreds of drink cycles, guesswork is out of the question. Simply fill the container, select the pre-programmed cycle you want, and let the Summit blender take it from there. Do you have a few signature drinks you're known for? Update the Summit blender by simply uploading your drink profiles through this convenient USB port. No matter which operator is blending, drinks will always be the same. They'll always be perfect.

Hamilton Beach Commercial is not only the perfect choice for performance, durability, and ease of use, it's also a great choice for fast, friendly service. For questions, service calls, or replacement parts, you can always count on your Hamilton Beach Commercial service team. As a US customer, if you ever have a problem with your in-warranty blender, and we can't resolve the issue over the phone, we will expedite a replacement unit to you at no charge. Could it be any easier?

Exceptional performance, built to last, excellent service, Hamilton Beach Commercial. Always there, always durable.
Finally, someone has created a smart blender to take the guesswork out of blending! The Hamilton Beach Summit Blender features an Auto Blend one-touch sensor that will sense when your drink is perfectly blended and automatically shut off.
Related Videos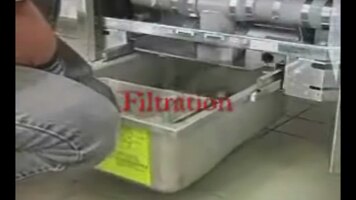 Frymaster E4 Series - Filtration
Filtration is another necessary part of preventative maintenance. This video will show you the proper way to use the filter system in your Frymaster E4 Series fryer. Rotary Food Mills
Instead of dragging out the big food processor, puree fruits and vegetables with one of our rotary food mills! Watch this video and learn how to use a food mill to make nearly anything!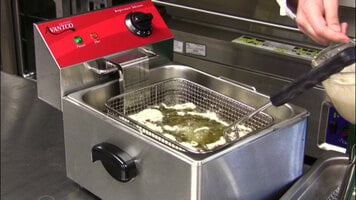 Fried Coke
Learn how to make this taste sensation! Fried cola has been a carnival favorite for years, and if you're one of those people who has wondered how it's done, check out this video for step-by-step instructions.