Presenting another innovation from San Jamar. Soap, it should be automatic. People shouldn't have to worry about getting it to clean their hands. Nothing is more frustrating than an empty soap dispenser or a soap dispenser with dead batteries. People are more concerned about cleanliness than ever, so it's never been more important for restrooms and other hand washing stations to have soap accessible, especially in touch-less dispensers that people expect. Introducing the latest innovation from San Jamar, the Rely soap dispensers, featuring the innovative Rely hybrid dispenser and bulk soap dispensers that give you the flexibility to use the most cost-efficient soap product. The hybrid is a one-of-a-kind electronic dispenser with a manual, backup push cover. When the batteries are too low to operate the unit automatically, an easy-to-see push indicator lights up. This also signals that batteries need to be replaced, which saves time, simplifies maintenance, and reduces frustration in the user. You always have access to soap. Rely hybrid dispensers use 4 C batteries to deliver over 6 months of operation under normal circumstances. Rely dispensers have a large capacity that handles up to 1,850 doses at .6 milliliters per dose and the pump is a snap to replace for easy maintenance. Plus, Rely dispensers can accommodate bulk lotion, foam soap, and hand sanitizer. This gives you greater versatility to manage budgets because you're not locked into specific soap brands or suppliers. The narrow profile extends only 4 inches off of the wall, so Rely dispensers are ADA compliant and the large push bar allows for easy dispensing. Like all San Jamar dispensers, Rely is constructed of high impact resistant plastic for rugged durability and the family is available in a variety of colors so you can have a complete system that coordinates with your look. Rely hybrid soap dispensers from San Jamar, the new standard in electronic touch-less dispensing. For more information on this and other smart dispensing products, visit sanjamar.com.
Learn about the convenient features of the San Jamar Rely hybrid electronic touchless soap dispenser! Boasting a large soap capacity, long battery life, and a back-up manual function, this soap dispenser is sure to suit your needs.
Related Videos
San Jamar Rely Hybrid Electronic Touchless Soap Dispenser Changing
Check out this instructional video to learn how you can change the pump in your San Jamar Rely Hybrid electronic touchless soap dispenser. Avantco JBC50 Beer Bottle Cooler
Learn about the best features of the Avantco JBC50 beer bottle cooler and why it's the perfect addition to your bar!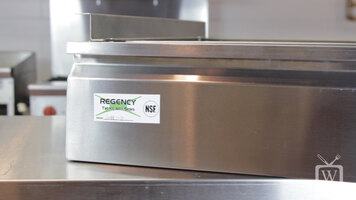 How to Install Stainless Steel Drawers
Learn how to quickly and easily install drawers on your stainless steel work table!