The following preventative maintenance check will help keep Hoshizaki Flakers and DCMs dependable and serviceable for many years. Clean the removable air filter. Service the water filter and check the water valve screen. Check for bearing wear once a year. Look for loose wires, oil spots, water drips, and other signs of wear or damage. Clean the exterior of the ice maker with a soft cloth and neutral cleaner. And clean and sanitize the water system and bin. Annual cleaning and sanitizing of the water system is recommended. More frequent cleaning may be needed if there is a high mineral content in the local water supply. Instructions for cleaning are located inside the front panel. To clean the flaker, drain the water system, turn off the control switch, and incoming water supply. Mix the cleaning solution as directed on the front panel. Remove the reservoir cover and fill with cleaning solution until it overflows into the stand pipe. Allow the cleaner to set for 15 to 20 minutes to loosen the scale buildup. Turn the control switch to "on" and the flush switch to "ice". Allow the flaker to make ice with the cleaner solution until the low water safety operates. Place a container under the ice drop zone to catch the frozen cleaning solution and then discard in a safe place. Inspect the reservoir. If the reservoir is clean, the evaporator is clean. If not, repeat the entire cleaning process. When you are sure the system is clean, turn on the water supply and flush the system thoroughly with fresh water. The same procedure should be used to sanitize the unit using a commercial ice machine sanitizing product. After a thorough flush, turn the unit on and allow it to make ice. Catch the first 10 minutes of product and discard it to ensure your customers' ice is fresh and clean.
Follow this simple, step-by-step video to make sure that your Hoshizaki flaker or DCM ice machine is properly cleaned and sanitized.
Related Videos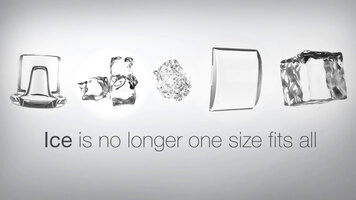 Hoshizaki Ice Types
Hoshizaki is an industry leader in manufacturing commercial ice machines. They offer a variety of ice shapes to suit any site application. From cube ice to chewable ice and even flaked ice, Hoshizaki has options for every sector of food service.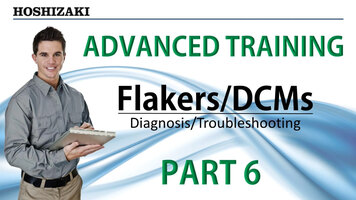 Hoshizaki Flakers/DCMs Training: Part 3
Easily diagnose issues with your Hoshizaki ice machine with these step-by-step procedures.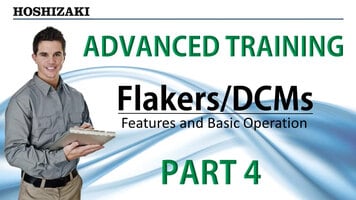 Hoshizaki Flakers/DCMs Training: Part 1
Watch this video to learn about the features of Hoshizaki Flakers/DCMs as well as some of the maintenance procedures to keep your machine up and running.