The Merrychef eikon e2 combination oven cooks practically anything fast and to perfection. This unit allows you to extend your menu without taking up precious space in your kitchen. It can rapidly cook food up to 10 times faster than a conventional oven. The easyTouch icon driven touchscreen controls offers the user ease of use as well! Offer your customers exception dishes in fast food times and cook to order so that you can reduce waste. This quality oven minimizes lifetime operational costs to save you money and the built in diagnostics reduce downtime and service calls. The easy to use unit minimizes training time, errors, and waste through an icon driven interface. Pre-program up to 1024 multi-stage recipes for consistent and repeatable high quality results. Featuring a small footprint to save space, the e2 is able to combine microwave and PlanarPlume technology for faster, even heating and browning. PlanarPlume sends a rapid flow of hot air toward the food to surround the food and accelerate the cooking process. This enables you to cook food up to 10 times faster than conventional cooking methods. This allows for rapid and uniform cooking. The built-in catalytic converter eliminates the need for a ventilation hood. Plug and play installation with a standard 20 amp outlet makes this easy to setup in almost any kitchen. The energy efficient power management system keeps current below 20 amps to save you money. e2 twin allows you to connect 2 units together through one 208/240v 30 amp power supply. This oven is perfect for cafes, bistros, kiosks, and snack bars.
The Merrychef eikon e2 combination oven is a new way to rapidly cook your food to perfection. Watch this video to see all the benefits and features this oven has to offer!
Related Videos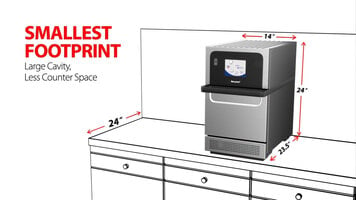 Merrychef eikon e2s High Speed Oven
Cook thoroughly, efficiently, and quickly with the Merrychef eikon e2s oven. Combining convection, microwave, and impingement technologies, this oven cooks 20 times faster than commercial units, so you know it's worth peeking at this short video to find out more about what this speedy, compact oven has to offer! Merrychef eikon e2 Combination Oven: Cleaning
Learn the daily cleaning procedure for the Merrychef eikon e2 combination oven by watching this informative video!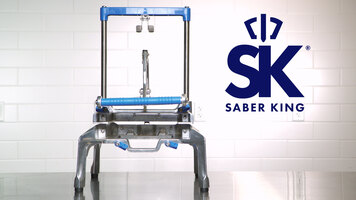 Saber King: How to Use
Bring versatility to your kitchen and simplify food preparation! Make healthy salads, soups, and other dishes with fresh produce by using the interchangeable blade and pusher head assemblies in the Saber King chassis. Cut, dice, slice, and shred with ease! Find out more in this brief video.