This video explains the daily cleaning process of the Merrcychef eikon e2. You will need gloves, safety glasses, and Merrychef oven cleaner spray. First, cool down the high speed oven. Place a tray of ice in the high speed oven and press OK on the screen. The oven will cool down. Next, the screen will prompt you to clean cavity. Put on the protective gloves and remove tray from the high speed oven. Then remove high speed oven parts. Clean high speed oven parts either by hand or in the dishwasher. Put on the protective glasses and remove spillages and food particles with a cloth. Spray cleaner onto a sponge and clean the cavity, roof, and inside the door. Avoid putting cleaner into the door seal and avoid scrubbing the door seal or using metallic scourers. Wash off the spray with a wet cloth then wipe dry. Once dry, replace high speed oven parts. Apply protector onto clean sponge and wipe down roof and cavity. Avoid putting protector onto the door seal. Once protector is applies, replace the tray. Press the green check mark on screen to confirm you have applies oven protector and then remove, clean, and replace the air filter. The air filter slides out of the back of the unit. Pull out the drawer from the bottom of the unit as well. Thoroughly clean both with cloths. Then replace the filter and the drawer once they have been cleaned. Clean the exterior of the unit with a cloth and then press the green check box to confirm you have replaced the air filter. The unit will then power down. Then, preheat the oven and let the protector cure for 30 mins. Daily cleaning will then be complete.
Learn the daily cleaning procedure for the Merrychef eikon e2 combination oven by watching this informative video!
Related Videos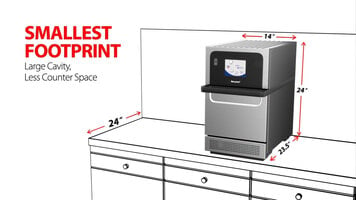 Merrychef eikon e2s High Speed Oven
Cook thoroughly, efficiently, and quickly with the Merrychef eikon e2s oven. Combining convection, microwave, and impingement technologies, this oven cooks 20 times faster than commercial units, so you know it's worth peeking at this short video to find out more about what this speedy, compact oven has to offer! Merrychef eikon e2 Combination Oven
The Merrychef eikon e2 combination oven is a new way to rapidly cook your food to perfection. Watch this video to see all the benefits and features this oven has to offer!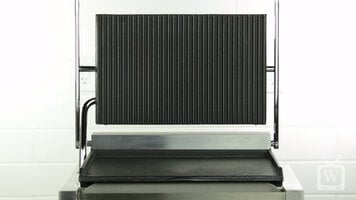 Avantco Panini Grills
Learn about all the features and benefits that come with an Avantco panini press!