The Turbo Air MST-72 Refrigerated salad and sandwich prep table features a stainless steel exterior and top that hinges allowing you to easily access your ingredients. Each table is able of holding 18 1/6 pans. Furthermore, there is a 9.5" by 72" by 1/2" thick cutting board on the front of each table for your staff to use when creating sandwiches. Underneath is 19 cubic feet of internal storage with ergonomic swing doors. Each door has ABS door liners to create a tight seal around the door. Inside are heavy duty wire shelves and a self-cleaning condenser. Underneath, are 4" casters. This table is ETL listed, NSF listed, and has a 5 year compressor warranty and a 3 year parts and labor warranty.
Learn about the features and functions of the Turbo Air MST-72 Refrigerated Salad and Sandwich Prep Table by watching this informative video!
Related Videos Continental Refrigerator: Worktops, Undercounters, and Sandwich Units
Looking for a reliable and efficient worktop, undercounter, or sandwich unit for your foodservice establishment? Check out Continental Refrigerator's CRA base models! With a wide selection of units, you'll be sure to find one that suits your needs.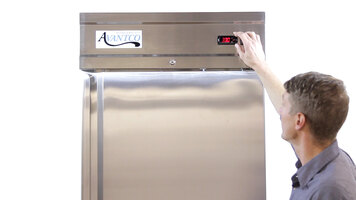 How to Program a Carel PJEZ Controller on an Avantco Refrigerator
Learn how to use a Carel PJEZ controller on an Avantco refrigerator to set the low temperature limit.
Avantco Sandwich and Salad Prep Tables
Watch this video to see why our Avantco sandwich and salad prep tables will be a great addition to any commercial kitchen and learn more about their impressive features.