San Jamar is proud to introduce the Kleen-Pail caddy, the efficient cleaning and sanitizing system. Most operators know the importance of cleaning and sanitizing to keep food contact areas free of dangerous bacteria, but we know it's not easy to perform these correct procedures at the fast pace of food service today. The challenge really is making sure that the operation is clean and safe while serving customers with efficiency. What tools does your staff have to efficiently and effectively clean and sanitize? The Kleen-Pail caddy is the unique solution to this problem. The system includes both the caddy, with integrated spray bottle holder, and a specially labeled spray bottle. The system compliments current cleaning standards while helping perform two HACCP processes with one portable tool. The Kleen-Pail caddy increases productivity by reducing travel time back and forth to cleaning stations: a big savings in time and labor costs. The Kleen-Pail caddy was designed with many smart features. The caddy has a thick stainless steel handle for comfortable carrying, and the unique pour spout helps you change out solution with less mess. Inside the caddy, fill marks in both English and metric help ensure the safe chemical concentration level. The whole system is both balanced and easy to carry. Both the spray bottle and the caddy feature important instructions for use in both English and Spanish. These graphics are key to training your staff, and for showing customers a strong commitment to a clean and sanitary operation. With the Kleen-Pail caddy the HACCP standard of cleaning and sanitizing can finally be done at the fast pace of food service today. Keep your operation smart, safe, and sanitary with the Kleen-Pail caddy by San Jamar.
Solve the problem of inefficient cleaning options with the smart features of the San Jamar Kleen Pail Caddy that allow you to clean and sanitize with less hassle!
Related Videos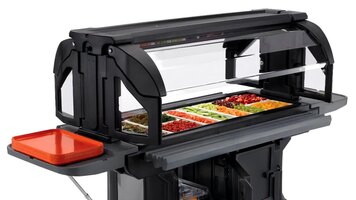 Cambro Versa Ultra Food Bar
Learn more about the many different features and benefits of the Cambro Versa Ultra food bar and the many different options you have to choose from by checking out this video!
Proctor Silex 24850 Commercial Toaster
Learn about the features, controls, and uses for the Proctor Silex 24850 commercial toaster!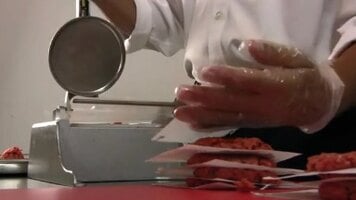 Patty Press
Your customers expect consistency, and our patty press will help you make perfectly sized hamburger patties every time! It also saves you valuable time in the kitchen when you would be rolling patties by hand.