San Jamar is proud to introduce the Kleen-Pail caddy, the efficient cleaning and sanitizing system. Most operators know the importance of cleaning and sanitizing to keep food contact areas free of dangerous bacteria, but we know it's not easy to perform these correct procedures at the fast pace of food service today. The challenge really is making sure that the operation is clean and safe while serving customers with efficiency. What tools does your staff have to efficiently and effectively clean and sanitize? The Kleen-Pail caddy is the unique solution to this problem. The system includes both the caddy, with integrated spray bottle holder, and a specially labeled spray bottle. The system compliments current cleaning standards while helping perform two HACCP processes with one portable tool. The Kleen-Pail caddy increases productivity by reducing travel time back and forth to cleaning stations: a big savings in time and labor costs. The Kleen-Pail caddy was designed with many smart features. The caddy has a thick stainless steel handle for comfortable carrying, and the unique pour spout helps you change out solution with less mess. Inside the caddy, fill marks in both English and metric help ensure the safe chemical concentration level. The whole system is both balanced and easy to carry. Both the spray bottle and the caddy feature important instructions for use in both English and Spanish. These graphics are key to training your staff, and for showing customers a strong commitment to a clean and sanitary operation. With the Kleen-Pail caddy the HACCP standard of cleaning and sanitizing can finally be done at the fast pace of food service today. Keep your operation smart, safe, and sanitary with the Kleen-Pail caddy by San Jamar.
Solve the problem of inefficient cleaning options with the smart features of the San Jamar Kleen Pail Caddy that allows you to clean and sanitize with less hassle!
Related Videos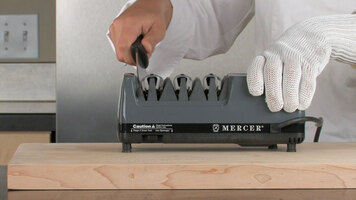 Mercer Electric Knife Sharpener
A Mercer electric knife sharpener provides great results with the added convenience of speed and consistency! To learn how this sharpener helps you achieve the best edges on your blades, check out this short video.
San Jamar Venue Napkin Dispensers
San Jamar's Venue napkin dispensers offer increased capacity and help reduce waste to save you time and money, one napkin at a time. Check out this short video to learn about the different styles and configurations available in this versatile line.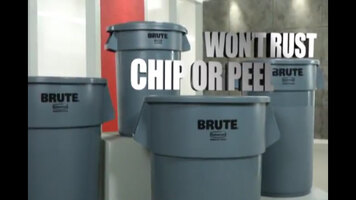 Rubbermaid Brute Trash Containers
Learn why Rubbermaid Brute trash containers are sure to provide you with the heavy duty waste receptacle you need for any industrial application!