Hi, and welcome to the Cal-Mil classroom. Here at Cal-Mil, we have what we like to call collections. These collections consist of a series of product with similar design and material that offer a wide range of uses, which I'll walk you through today. Today, we have the squared collection. Available in black metal or stainless steel, this collection is designed with a bold and modern edge. Its state of the art metal work with geometrical cut outs makes the squared collection unlike any other. As you can see, these are add-ins that you would use for a full buffet set up, large or small, ranging from beverage dispensers, chafers, condiment organization, risers, and more. To see the entire collection, as well as 12 other collections, visit us online at cal-mil.com, where you can also request a 2015 catalog today. Thanks for stopping by and I'll see you next time in the Cal-Mil classroom.
Looking for a bold and modern set up for your buffet? Try Cal-Mil's squared collection! Featuring state-of-the-art metal work with geometrical cut outs, you'll impress your guests every time!
Related Videos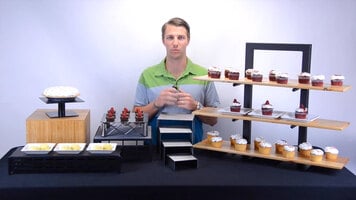 Cal-Mil Risers
Showcase your culinary creations with Cal-Mil's wide variety of risers! With styles and materials ranging from metal, bamboo, wood, plastic, and more, these risers are sure to give your food the display it deserves!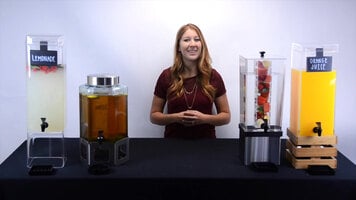 Cal-Mil Beverage Dispensers
With a variety of different sizes, styles, materials, and colors, Cal-Mil can make any foodservice presentation eye-catching with their beverage dispenser collection. Choose from ice chambers or infusers for ultimate versatility! Mamas Testimonial for the AXP20
Mama's testimonial for the AXP20