When I demoed a number of floor scrubbers, the pacific z series really stood out. Sure the units are constructed well, with solid steel scrub decks and heavy duty squeegee assemblies that are weighted so they leave a clean dry floor. But it's as if they were designed by someone who actually designed by someone who cleans professionally for a living. The z210 is very compact, in fact Maria, my team leader during days is barely 5 foot tall. She told me the scrubber from her previous job as so big she couldn't see what she was doing. Even at her height, the z210 has a very good sight line. It was also designed to move through standard width doorways and elevators, something we really didn't think about at first. And it really maneuvers, in part due to its true brush assist but also because of its ergonomic design and light weight; which limits fatigue on my crew and keeps productivity high. Maria also likes having the fill and empty feature on the front of the machine and says it's smart that both can be run at the same time, saving time and money. Oh, I mentioned my day crew. We actually us the z210 for day cleaning since there is no risk of slips and falls and it is really quiet. This flexibility for scheduling has really helped. It has two maintenance free batteries that give us 2.5 hours of scrub time per charge. There is also a sight gage for fluid levels and the console has a few storage bins for necessary items. Pacific's z26t is a slightly larger model, it has all of the same features as the z210 but it also has a variable speed traction drive system. It allows the operator to dial in a specific speed to match the cleaning conditions required. As it turned out, my toughest decision on purchasing a scrubber was trying to decide which specific unit to purchase, the solution? I bought one of each!
The compact design and convenient features of the Pacific Z-Series Floor Scrubbers make each model easy to use and perfect for any business! Check out this video to see why and how Pacific floor scrubbers beat out the competition.
Related Videos Star Humidified Display Case
Learn about the features and benefits of Star humidified display cases!
Features of Crown Verity Portable Sink Carts
The wide variety of features and options of the Crown Verity Portable Sink Carts make these sinks perfect for all kinds of indoor and outdoor food preparation. This video will show you each of these features and how they will benefit your business!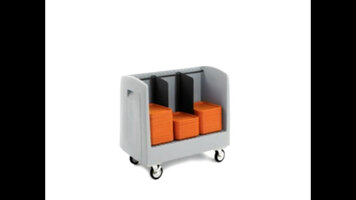 Features Of The Metro Side-Load Dish And Tray Carts
Learn about the wide variety of options and features available with Metro Side-Load Dish and Tray Carts! Metro offers adjustability, variety, and protection in all of its carts to allow you to safely handle all of your trays and dishes.