We are discussing the two different series of ranges manufactured by Bakers Pride: the Restaurant Series and the Vantage Series. Whether you choose the Restaurant Series or the Vantage Series, you have a versatile piece of equipment, a durable piece of equipment, and a tough piece of equipment. In the Restaurant Series we have 40,000 BTUs per burner and 40,000 BTUs per oven. In the Vantage Series we have 28,000 BTUs per burner and 38,000 BTUs per oven. The Restaurant Series is fully stainless. That's the sides, the front, the top, the landing shelves. With the Vantage Series, we have stainless steel on the front and top with galvanized aluminum on the sides. The Restaurant Series oven base is fully porcelainized with five different positions and two shelves. The Vantage Series oven base is porcelainized on the door and the bottom with two different positions and one shelf. The landing shelf on the Restaurant Series is a full seven inches, an industry leader, and the overshelf is twelve inches. Again, as wide as you'll find in any series within the industry. Fully enclosed, the Vantage Series is slightly smaller with a five inch landing shelf and a ten inch overshelf. Whether you choose the Restaurant Series or the Vantage Series from Bakers Pride, you're going to get an extremely tough and durable piece of equipment that is very flexible and versatile.
This video features the Restaurant Series and Vantage Series ranges from Bakers Pride! Check it out so that you can select the right gas range for your business.
Related Videos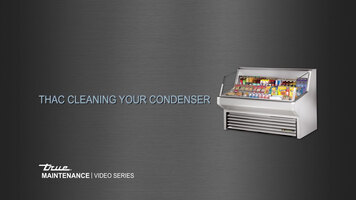 Cleaning a True Horizontal Air Curtain Condenser
Watch this instructional video to learn how to clean the condenser on your True Horizontal Air Curtain Refrigerator. With helpful tips and a list of the necessary tools, this video has everything you need to get started. VonDrehle Mini Center Pull Towel Dispenser
This VonDrehle mini center pull towel dispenser is a space-saving, hands-free option for your paper towel needs. Equipped with a detachable mounting plate and flexible mounting options, this dispenser can be placed wherever you see fit.
Waring WFP16S Food Processor
Watch this video to learn about all the unique features this Waring WFP16S food processor has over other processors in its class. From a 2 HP motor to a whipping disk, this Waring product takes a step above the rest.