Whether you have a busy buffet or cafeteria, a family restaurant, or an outdoor patio, you know how frustrating it is dealing with breakage of your servingware. These melamine plates are a great option for high volume businesses that are looking for unmatched break-resistance. Melamine has become one of the most widely-used materials in the foodservice industry because of its outstanding strength, but with a multitude of different colors and shades to choose from, it's also a very stylish choice! From the more traditional shades of white and beige to eye-catching oranges, purples, and reds, you're sure to find a color that fits with your decor. We even offer plates with printed designs and ones with distinctive textures that will help make your business stand out. Looking for a unique plate that can display your signature appetizers and desserts? We've got you covered with shapes like triangular, rectangular, and oval plates to go along with the classic round and square designs. For easy cleaning and sanitation, many of these plates are also dishwasher safe and NSF Listed.
Looking for a serving plate with unparalleled break resistance? Try one of our melamine plates! Not only do they have outstanding strength, but they also come in a multitude of vibrant, fun colors to match any decor.
In addition, many of our melamine plates come NSF listed to meet health standards in the restaurant industry.
Related Videos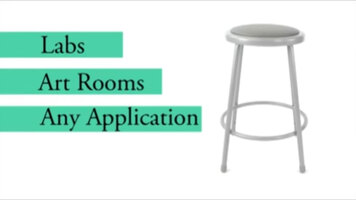 National Public Seating 6400 Series Round Lab Stool
Built to last, the 6400 series heavy-duty padded lab stool is perfect for your art room or science lab. The gray vinyl seat is both attractive and comfortable, so you'll always be confident that your guests are pampered.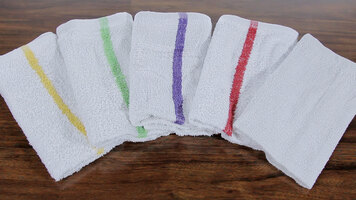 Choice Bar Towels
To clean up your restaurant's everyday messes, put your trust in Choice's bar towels! Color coded for convenience and made from 100% cotton, these highly absorbent towels are perfect for wiping tables, cleaning cooking surfaces, and more. Replacing the Belt & Brushroll on the Hoover Hush Tone Lite Vacuum Cleaner
Learn how to replace the belt or brush roll on your Hoover Hush Tone Lite vacuum cleaner when you watch this video. Step-by-step instructions will guide you through the servicing process.