Gold Medal products has been manufacturing quality snack equipment since 1931, such as popcorn machines, cotton candy machines, snow cone machines, hot dog machines, and all of the supplies. Our 425,000 square foot building in Cincinnati, Ohio has the largest inventory in the world of these items. Our network of dealers worldwide are here to help you make the most profit you can make with any and all of Gold Medal's products. This video with show you the correct way to make popcorn in your Gold Medal popcorn machine. Before we get started, here are a few safety precautions. The machine is not to be operated by a minor. Don't touch the kettle when popping corn because it is extremely hot. Never take the kettle to the sink, immerse, or wash with excess water, and make sure you always unplug the machine before doing any kind of cleaning. Important – be sure to read and understand the operating manual for this piece of equipment. If you need an operating manual, or have questions, please call us at 1-800-543-0862. First, open the doors and lower the drop panel. Then, turn on the kettle heat switch, kettle motor switch, and finally the light and warmer switch. Flip up the lid on the kettle, and then open up your all-in-one Mega-Pop kit containing the oil, popcorn, and salt for perfect popcorn every time. Once the kettle heats up, the popcorn will begin to pop. This will take about 3-4 minutes to complete. When the corn is just about done popping, grab the handle and dump the kettle. You will want to dump it twice to make sure all of the popcorn falls out of the kettle. On your last batch of corn, as the kettle lid starts to lift, turn off the heat switch. Then take your popcorn scoop flipped upside down to move the popcorn over the warming tray. This will get rid of any unpopped kernels that did not pop during the popping cycles. Repeat the process for each additional batch of popcorn you want to pop. When you have finished popping, turn your heat switch off, and your motor switch. You will want to leave your warmer switch on until you are done serving your corn. When you are ready to clean the kettle, please allow it to completely cool down. I will take about thirty minutes. When you're ready to remove the kettle, first unplug the kettle. Then simply lift the kettle out of the hanger arms. Next, remove the drop panel, wipe down the warming tray, and then remove the warming tray from the machine. Finally, remove the crumb drawer. At this point you may want to wipe down the glass and the doors with a non-ammonia based product. Finally, wipe down the inside and the outside of the kettle with a rag. Remember; do not soak the kettle in a sink. Now your machine is nice and clean, and ready to pop again another day. If you have any questions or comments please feel free to give us a call, a fax, or an email. Thanks again and enjoy your gold medal popcorn machine.
This video will show you step-by-step instructions on how to operate and clean your Gold Medal popcorn popper! It also lists some valuable safety tips so you and your employees can stay safe while popping hot, delicious popcorn for your customers.
Related Videos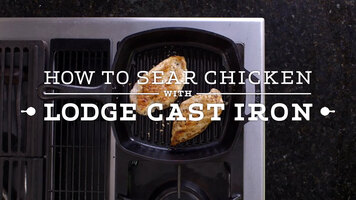 Lodge Grill Pans: How to Sear Chicken
Lodge cast iron is the perfect way to sear chicken, fish, and more! Watch this video for instructions on how to brine, prep, and cook chicken using a cast iron pan from Lodge.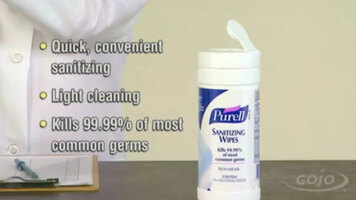 Purell® Sanitizing Wipes
The Purell® hand sanitizing wipes are gentle and effective at killing 99.99% of common germs, making them perfect for virtually any application!
Cal-Mil Condiment Organization
Need a visually pleasing way to display your condiments? Try Cal-Mil's condiment jars! Coming in a variety of glass and bamboo styles, these jars are sure to enhance your foodservice presentation.