A knife case is the choice of professionals who carry their knives with them. They are padded and have elastic loops to hold the knife firmly in place. They have mesh pockets and Velcro fasteners. When walking with your knife out of the roll, make sure to announce "sharp behind". If you are traveling to visit friends and plan to be the chef, you'll want to bring your professional knives.
A knife case is the perfect way to prevent injuries and protect your knives when traveling! Check out this short video to learn about the many features and benefits that a Mercer knife case brings to the table.
Related Videos
Knife Cases
Knife cases are ideal for storing, organizing, and transporting all of your cutlery, ensuring you have what you need wherever you go! Made in a variety of materials, these cases protect your blades from damage and prevent injuries in the kitchen.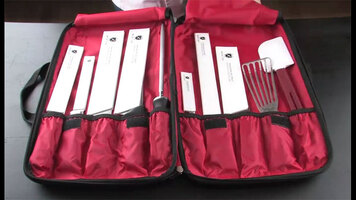 Mercer Knife Pack Plus
Transporting your knives and other tools to and from work can be a hassle, but Mercer's knife pack plus makes it easy! Boasting a useful knife carrying case and backpack, keeping your kitchen tools safe and sanitary will be a breeze.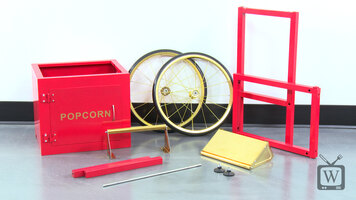 How to Assemble a Carnival King Popcorn Cart
Your Carnival King PM series popcorn carts come with all the equipment you need to assemble them right on the spot. Watch this video to learn how to assemble your 4-ounce or 8-ounce popcorn machine cart!