Now there's a way to quickly and easily add rich, indulgent flavor to foods without the mess, fat, and calories of oil or butter! Vegalene seasoning sprays are the fast, one-step ways to add the flavors of butter, olive oil, and garlic, with the convenience of a shelf stable spray. Vegalene seasoning sprays are applied before and after cooking, so you can add just the right amount of flavor before serving. Imagine how much labor could be saved if you didn't have to deal with the time of melting butter and mixing seasonings. What if you didn't have to deal with the mess, waste, and clean up after brushing foods with oil or butter? Vegalene seasoning sprays are shelf stable, so there's no spoilage as with butter and bottled oils. One of the best benefits is your ability to add rich flavor with fewer calories, no trans-fat, and no cholesterol. Try Vegalene Buttery Delight to spray on crave-able flavor for breads, grilled sandwiches, seafood, and vegetables. For an additional layer of flavor, Vegalene Zesty Garlic Mist has the irresistible aroma and taste of fresh minced garlic blended with butter. It is perfect garlic breads and croutons, as well as Mexican, Cajun, Indian, or Asian menu items. Made with extra virgin olive oil, Vegalene Olive Mist is ideal for Mediterranean fare, pastas, pizzas, breads, meats, or vegetables! For an extra punch, Vegalene Premium Olive Mist delivers even nuttier, robust olive oil for Greek salads, pizza crusts, and paninis. You'll get the most usage and trouble-free spraying if you follow these easy steps. Always line up the spray button with the red orientation dot, and hold the cap at a 45 degree angle or less. This will ensure that the concentrate is continuously fed through the dip tube inside the can. If sprayed improperly, you'll run out of gas propellant and the can will stop spraying before the entire product is utilized. To find out more about Vegalene brand products, talk to your Par-Way Tryson sales associate or visit parwaytryson.com today!
Save money and time by using Par-Way Tryson Vegalene seasoning sprays! With a variety of sprays to choose from, each spray adds irresistible flavors without the mess, trans-fat, cholesterol, or calories of butter and oil.
Related Videos Olympian High Density Trash Bags
If you are looking for a durable, versatile garbage bag, look no further than Olympian high density trash bags! Check out this video to learn about the many available sizes and great features of these trash bags.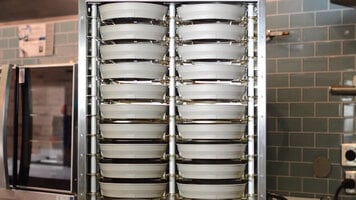 Cambro Camduction Complete Heat System
Cambro's Camduction complete heat system gives healthcare foodservice operators the ability to safely heat up to 20 bases at a time! Using this revolutionary system, your plates will stay hot and ready to serve while remaining safe to the touch.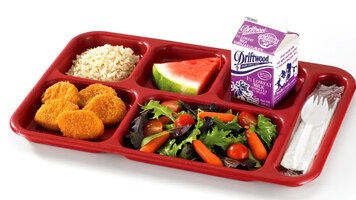 Cambro Compartment Tray
Watch this video to learn about the many different types of Cambro compartment trays and how they can be an excellent addition to your cafeteria line!