Winning espresso programs require the staff to promote the beverages. A profitable beverage program requires a machine that the staff wants to use, is safe to use, is easy to use, is consistent, and is intuitive for daily cleaning. Picture prompted cleaning is a new approach to the daily process. Instead of using manuals and training videos to understand how to properly clean the machine, the touch screen module becomes the prompt by guiding the operator through the cleaning process. In under seven minutes, the process is complete with the confidence that it was done correctly. Through the large touch screen and pictures, it is an engaging process that makes the operator feel confident the process was done correctly, which will achieve longer equipment life because the equipment was properly cleaned. Picture prompted cleaning adds to great drink execution. Good drink quality is a direct result of a thoroughly done daily cleaning. Let picture prompted cleaning work to make your program the best in its class.
Bunn's picture prompted cleaning takes your staff through the cleaning process step by step on an easy-to-use touch screen to ensure proper cleaning of beverage machines. This results in better quality beverages and confident, empowered employees.
Related Videos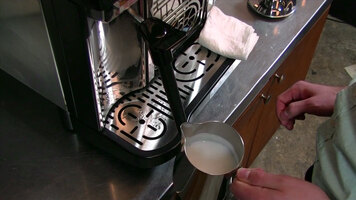 Bunn Intellisteam
With Bunn's Intellisteam, steaming milk for your signature hot drinks has never been easier! Its unique steaming wand automatically stops when the milk has hit the proper temperature, taking the guesswork out of the process for improved consistency.
Bunn Build-A-Drink Demonstration
The Bunn Espress streamlines your beverage service with simultaneous milk production and espresso extraction. Its Build-A-Drink Menu has touch screen options like milk type and number of espresso shots to efficiently create your signature hot drinks.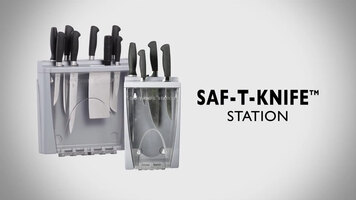 San Jamar Saf-T-Knife Station and Saf-T-Knife Station Jr.
The clear design of San Jamar's Saf-T Knife Station makes it easy to see your knives for quick access. It's also removable for use in the dishwasher, or you can open the cover and clean it directly from the wall mount.