Hi I'm Steve Ziegler, product expert at the WEBstaurant store. I'd like to take a minute to show you the Chef Master professional hand held knife sharpener. As we all know, a dull knife is a dangerous knife. This Chef Master knife sharpener is the least expensive and most portable way to keep your knives reliably sharpened. Let's take a look at out this pocket sized knife sharpener works. First, take the knife to be sharpened and place it upside down on a clean dry work surface. Have the tip of the knife sticking just over the edge of the table. Use the knife sharpener guide and place it at the heel of the knife to be sharpened, and work your way down in five smooth, light strokes. Just like this. Now let's see how we did. If you have any questions about the Chef Master knife sharpener, or any of our knife sharpeners, please feel free to use our live chat button.
Not only are dull knives a pain to work with, but they can be dangerous too! This hand held knife sharpener from Chef Master is one of the least expensive, most portable ways to keep your knives reliably sharp.
Related Videos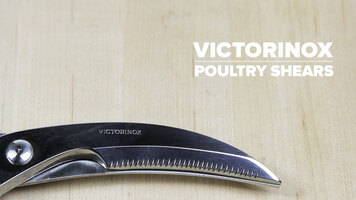 Victorinox Poultry Shears
If you need durable shears to smoothly cut meats, check out this video to learn about the Victorinox 10" poultry shears! With great safety features like non-slip handles and a blade locking mechanism, these shears are perfect for a variety of uses.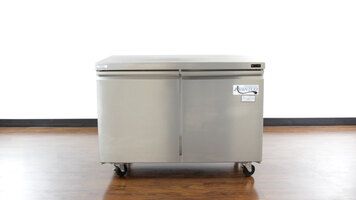 Avantco TUC48F Undercounter
To learn about the many features and benefits of the Avantco TUC48F undercounter freezer, check out our short video!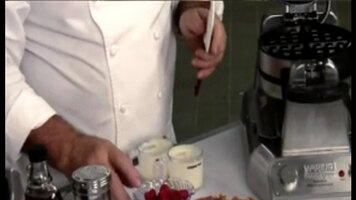 How To Use the Waring WW200 Double Belgian Waffle Maker
The Waring Double Belgian Waffle Maker is not only space saving, but also has heating elements within the iron plates to perfectly bake and brown Belgian waffles every time you make them. Watch this demonstration to see how easy they are to use.