The Rubbermaid 832WQ QuickStop 32 oz. portion scale is the perfect mechanical scale for anyone that wishes to portion the ingredients in their commercial kitchen. It features shock-absorbers that reduce needle bouncing for faster reading. It will read in 1/8 oz. increments, and it includes a 9" x 9" removable platform for easy cleaning. This scale is also NSF certified.
Measure out the correct portion of ingredients in your kitchen with the Rubbermaid 832WQ QuickStop 32 oz. portion scale! Watch this video to learn more about the NSF Listed unit.
Related Videos How Portion Scales Can Help You Control Portion Sizes
Save money for your business by learning how to control the sizes of the portions you serve! See how seemingly insignificant mistakes in portion size--such as being off by 1/8 of an oz.--can make a huge difference in your yearly profits.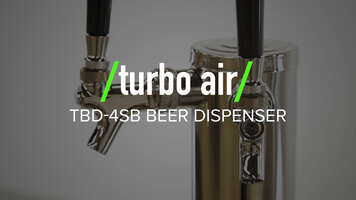 Turbo Air TBD-4SB Beer Dispenser
Looking for a beer dispenser for your bar or restaurant? Check out the Turbo Air TBD-4SB beer dispenser! This unit holds 4 half-barrel kegs and has 4 faucets, allowing you to serve a variety of beers to your customers.
Choice Wrap Nap Napkins
Wrapping flatware in napkins can become a time consuming job, but our Choice WrapNap napkins will save you both time and money! Because these napkins are already flat, you can cut out the step of unfolding napkins before you wrap your flatware.