Hello internet shoppers! This is Steve Ziegler, product expert at the WEBstaurant Store, and today we will be going over the basics of induction cooking. Induction is a very safe, responsive, and cost effective form of cooking that's used the world over. And of course, if you buy your induction equipment at the WEBstaurant Store, it will save you money. Before we begin in earnest, I want to mention that today we're going to be demonstrating on Vollrath's Mirage 1800 watt induction range, but we also have this entry-level induction range. Now on the internet you'll find a few ranges that are cheaper (not many, but a few), but they're also less wattage. The problem is that, just like microwaves, the wattage effects cooking times. So while this entry-level unit may not have the same features that make this Vollrath Mirage great for high end and high volume applications, with the same 1800 watts of power, it cooks every bit as fast. Now here at the WEBstaurant Store we have induction ranges that run the gamete from counter-top units like these, all the way up to drop-in units and units that have up to 3500 watts of power per burner. But what is induction cooking? Very simply, it's the process of exciting the atoms in, in other words heating, the pan itself. For this to work you need a pan that can be magnetized, so you'll need to use a pan made out of materials like cast-iron, stainless steel, and enamel wear works great. What you don't want to use are pans that are all aluminum, copper, or made out of glass. Those will not work on an induction range. Now you can use pans like I'm using today, which are stainless steel with an aluminum-clad bottom. They work just fine, and are very inexpensive here at the WEBstaurant Store. By just heating the pan, induction ranges have some excellent advantages. The first one being safety. You can see that I can put my hands right here where this is heating, and it is not even hot. Now you have to be careful, because the pan itself heats the unit, but it's not hot enough to hurt my hand at all when my hand is waving right over top. You don't want to do this on a gas or electric range. This advantage really comes into play when you're catering or if you're in a buffet type situation. You know, those butane burners are great until some tipsy conventioneer trips into your sauté station and catches his jacket on fire. Besides the safety factor, the fact that induction only heats the pan means that it's very efficient. In fact, it's 90% efficient. Gas is only 50%, which means that while 50% heats your pan, the other 50% of that heat energy is going to heat your room. And who wants a hot kitchen? Okay, one last advantage of induction: instant adjustability. If you've ever worked with an electric stove or halogen range, you know the annoyance of having to wait until the burner warms or cools off. That's why so many of us love cooking with gas. Induction cooking is the same as cooking with gas in that way. Remember, we're just heating the pan with an electromagnet, so we can adjust that energy as quickly as we want. We can also bring this down to a very low simmer, which is also very useful. Well now that you know a little bit more about induction cooking, explore our site! We have an induction range that will suit anyone's need. Thank you for watching! If you have any questions please feel free to use our live chat button.
Explore the benefits of induction cooking, such as enhanced safety and increased efficiency! Also, learn what kind of pan to use with your induction range. From countertop ranges to a drop in units, we have the right induction range for you!
Related Videos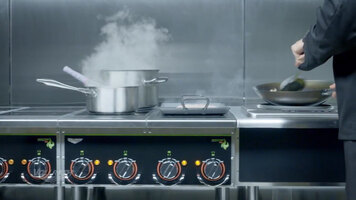 Vollrath Induction Money To Burn
Vollrath's induction technology is safer, more precise, and 50 percent more efficient than gas burners. Learn more by watching this video!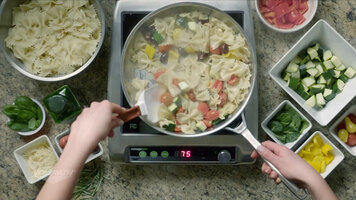 Vollrath Induction Cook Anywhere
Vollrath induction technology allows you to cook wherever you want, whenever you want! Discover the freedom of induction cooking by watching this video.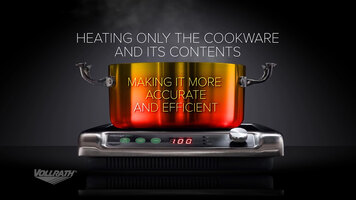 Vollrath Induction Technology
Watch this quick video to learn how Vollrath's induction technology works! An electric current creates magnetic fields that heat up the cookware, making it efficient and precise.