Presenting another innovation from San Jamar. Knives may be the most important prep tool in the kitchen, but if they're not handled and stored carefully, knives can pose serious safety and sanitation risks. Saf-T-Knife Station from San Jamar, the leader in food safety solutions, provides safe, secure storage for knives. Magnetic knife racks not only present a hazard to kitchen staff, but also leave knives exposed to contamination and damage. Expensive stainless steel knife holders protect knife blades, but are hard to clean and make choosing the right knife a guessing game. Saf-T-Knife Station offers a clear solution for safe, sanitary, and secure knife storage. Saf-T-Knife's clear-view door makes it easy for staff to see and select appropriate knives and confirm that knives are clean, sanitary, and ready for use. Saf-T-Knife Station is easy to wall mount, giving staff convenient access to knives while freeing up valuable counter space. Constructed of break-resistant plastic, Saf-T-Knife Station is durable, easy to clean, and NSF Certified. Clean and sanitize while mounted in place, or easily disassemble for dishwasher cleaning. Saf-T-Knife Station. The clear and affordable solution for safe, sanitary, and secure knife storage. For more information on Saf-T-Knife Station and other smart food safety products, visit sanjamar.com.
Knives are the most important prep tools in any kitchen, so store yours in a safe, sanitary, and secure manner with Saf-T-Knife Station from San Jamar! To find out more, check out this short video.
Related Videos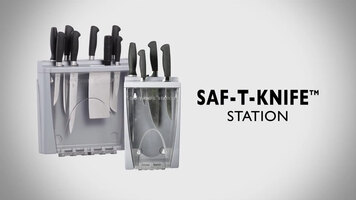 San Jamar Saf-T-Knife Station and Saf-T-Knife Station Jr.
The clear design of San Jamar's Saf-T Knife Station makes it easy to see your knives for quick access. It's also removable for use in the dishwasher, or you can open the cover and clean it directly from the wall mount.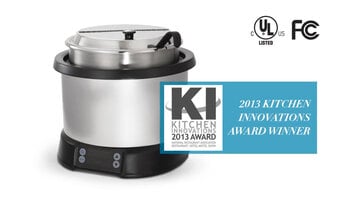 Developing the Vollrath Mirage Induction Rethermalizer
Watch this video to learn about the Vollrath Mirage induction rethermalizer. This product has been reinvented for commercial use, bringing you ultimate durability!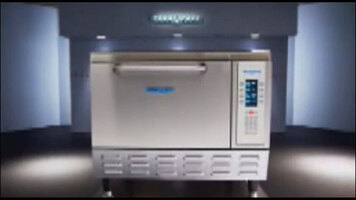 Turbochef Tornado: Setting Up Your Oven
This video will help you through the process of setting up your Turbochef Tornado oven, which features cooking capabilities of up to 12 times faster than traditional cooking equipment!