The Avantco SCL260 salad and sandwich prep table is the perfect addition to any kitchen. A 60 inch long cutting board provides have ample space to prepare any salad or sandwich, and keeps you within arm's reach of your refrigerated toppings. The cold topping holding area can fit sixteen 1/6 size food pans that can be up to 6 inches deep! The insulated, hinged cover will also keep your condiments and toppings fresh during off-peak hours. With automatic defrost and an interior fan, you can rest assure your toppings will always be kept at a food safe temperature while a digital readout thermometer allows you to see the temperature at a glance. Thanks to a reliable lower refrigerator, you won't ever have to waste time running for ingredients to restock your prep table. Adjustable mounting brackets in the refrigerator allow you to customize the shelving unit to meet your needs. The refrigerator has a ½ horsepower compressor which uses R134a refrigerant. For easy cleaning and maintenance, this stainless steel prep table comes with standard built-in casters. Two of the casters lock which allows for the prep table to stay safely in place while you prepare your salads or sandwiches. Additionally, it is ETL listed and NSF compliant. The Avantco SCL260 Salad and Sandwich Prep Table is the complete package, and will make your kitchen more efficient by having everything you need in one convenient location. If you have any questions about this product, feel free to use our live chat button.
Featuring an easy-to-read digital display and a reliable lower refrigerator, the Avantco SCL260 Salad and Sandwich Prep Table will make preparing your signature salads and sandwiches a breeze! It's easy to clean as well as ETL and NSF listed.
Related Products

Related Videos
All-In-One Popcorn
With All-In-One popcorn, making your customers' favorite snack has never been simpler! Check out this video to learn just how quick and effortless it is to make perfect popcorn every time with All-In-One popcorn.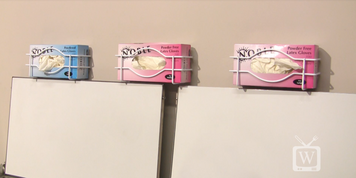 Noble Gloves - Types of Gloves
In this segment, we explain the different types of gloves offered by Noble Gloves. Whether you're looking for powdered or powder-free latex or vinyl gloves, Noble Gloves offers the best in disposable glove protection at affordable prices. How Portion Scales Can Help You Control Portion Sizes
Save money for your business by learning how to control the sizes of the portions you serve! See how seemingly insignificant mistakes in portion size--such as being off by 1/8 of an oz.--can make a huge difference in your yearly profits.