The Avantco Conveyor Toaster Oven is an ideal addition to your breakfast buffet, coffee shop, or cafeteria. This toaster oven has a 3 inch tall opening which means it is can toast even the largest of bagels. This conveyor oven can toast up to 300 slices of bread or halves of bagels an hour and with it's compact design, you can place this oven just about anywhere. The toast can drop out the back of the unit, or slide out in front to suit the needs of your kitchen. The temperature dials on the front allow you to precise control on the finish of the toast. This conveyor oven has 3 settings for how the heat is distributed throughout the oven. In Bread mode, you will heat both the top and bottom of the bread, Bun mode, uses just the top heating elements, and in Standby mode, the unit will work at 25% capacity. The all stainless steel design makes clean up easy too! A pull out crumb tray allows you to quickly clear out your crumbs on the busiest of days. and it is ETL and NSF listed. If you have any questions, please feel free to contact our customer service representatives.
With its various settings and ease of use, adding this Avantco Conveyer Toaster Oven to your coffee shop or cafeteria will provide your customers with perfectly toasted bread, bagels, and buns every time!
Related Videos
Avantco Conveyor Toaster
Learn how to use, control, customize, and clean the Avantco conveyor toaster!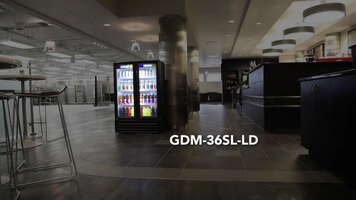 True GDM 36SL LD Refrigerator
True's GDM-36SL-LD refrigerator features french door gaskets, allowing full shelf usage for storage of up to 200 20 oz. bottles! It offers the fastest product temperature pulldown in the industry, and bright LED lighting to help drive impulse sales.
Pacific S-20 Auto Scrubber Overview
This video gives you an inside look at all of the features and benefits of the Pacific S-20 auto scrubber that make it an excellent choice for your floorcare needs!