An easy way to keep your hot dogs sanitary while they are on a roller grill is by using a sneeze guard. The Avantco 24 Hot Dog Roller Grill Sneeze Guard is a perfect way to keep your hot dogs and sausages clean while meeting local and state sanitation regulations. This sneeze guard has an easy to open front door which allows for access to the hot dogs while they are still on the rollers! The dome feature protects the food from bacteria, as well as coughs and sneezes from your customers. This will make your food more sanitary and will help to prevent the spread of airborne diseases. The clear plastic allows you to tell at a glance when you're hot dogs and sausages need refilled. As always, if you have any questions, please feel free to contact our customer service representatives.
Not only will the Avantco 24 Hot Dog Roller Grill Sneeze Guard protect your food and your customers from airborne germs and bacteria, but it will ensure that you are up to local and state sanitation regulations.
Products In This Video

Related Products
Related Videos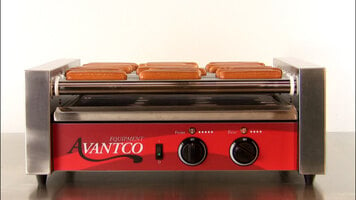 Avantco Hot Dog Roller Grill Demonstration
The Avantco hot dog roller grill will evenly cook hot dogs or sausages every time! This grill features separate controls for the front and rear rollers, giving you more control over the cooking process. Also, don't forget to purchase a sneezeguard!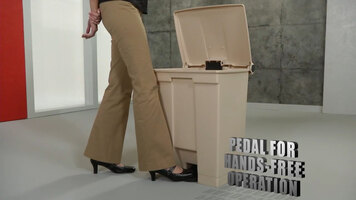 Rubbermaid Step On Containers
Watch this video to learn about Rubbermaid's step-on container selection. Perfect for health care environments, you'll see how these hands-free containers provide ultimate sanitation!
Avantco Meat Slicer Demonstration
For a high-quality meat slicer at an unbeatable price, pick up an Avantco meat slicer! It can cut thick or thin slices of choice meats at your deli, restaurant, or sandwich shop, and its aluminum construction ensures cleanup is a breeze.