Portion control has been an often talked about topic in the food service industry for as long as I can remember. Every operator knows they should practice good portion control; every chain account that I've ever been in has procedures in place to make sure that things are getting measured. And yet so many operators still sacrifice consistency and throw their money away by not having a good portion control game plan in place for their enterprise. Hi, I'm Steve Ziegler, product expert at the WEBstaurant Store. Let me show you a few examples of how portion control can affect your business. The first thing I'd like to discuss is consistency. Not only can one person's estimate of the right amount vary widely, but the problem only gets worse when you're talking about more than one employee. For example, if I go into your sandwich shop and I receive this sandwich made by Joe, I'm probably going to be pretty happy. If later on I go in and get this sandwich made by Jack, not only am I going to be unhappy, but I'm probably going to complain about it. And the sad thing is, if this meat had been split evenly between these two sandwiches by using a scale, I probably would have been a very happy customer. So portion control is an important part of customer satisfaction. Next, and even more importantly, by not having portion control in place, you're slowly robbing yourself blind. Here, let me show you. You see these two sandwiches being prepared here, I measured this one with 3 ounces of ham. This one I just eyeballed, and it looks right, doesn't it? I made lots of sandwiches in my time and I'm a good estimator. But just in case, let's go ahead and measure the meat on this sandwich. Well, I was a little bit off, that's 4 ounces right there. Even though it looked the same, it's very easy to be off by a good bit. Three to four ounces, that's one ounce off, that's 1/16th of a pound, that ham cost me five dollars a pound, now let's think about this a little more carefully. Now 1/16th of a pound times $5 a pound, were only losing $0.31 cents a sandwich. But I serve 30 sandwiches a day 6 days a week, 52 weeks a year, which brings me to the fact that by the end of the year I have managed to lose $2,901.60. That is money that I've worked for, now I'll never recoup. But if you're a better estimator than me, let's say you're only off by an 1/8th of an ounce. With this same ham, you're only going to lose $362.70. Which is just fine, because your kids really didn't want that PlayStation that badly anyhow. Every chain restaurant has a portion control program in place because they've studied it, and they know it's worth the effort. So put that money in your pocket, show your staff this video, and begin your portion control program today.
Save money for your business by learning how to control the sizes of the portions you serve! See how seemingly insignificant mistakes in portion size--such as being off by 1/8 of an oz.--can make a huge difference in your yearly profits.
Related Videos Cardinal Detecto PS30 Scale
Accurately weigh foods, ingredients, industrial products, and more with Cardinal's Detecto PS30 digital portion scale! Featuring a back-lit LCD display, easy controls, and an auto-zero function, this scale will precisely weigh items up to 30 pounds. Iowa Rotocast Plastics Craft Drafts
Looking for an easy beer dispenser? With just 5 simple steps, the Iowa Rotocast plastic craft draft is the perfect way to serve ice cold beer to your customers!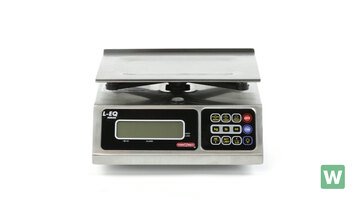 Tor Rey L-EQ-10/20 Digital Scale
The Set Limit feature of the Tor-Rey L-EQ 10/20 digital scale makes it ideal for portion control. The scale toggles between lbs, kgs, and oz. Hook this scale up to a printer and PC via its RS-232 date port for added programming and printing benefits.