Keeping your Panini grill seasoned is an important step in maintaining the cast iron plates. Once you have received your Panini grill, it's important to take the proper steps in caring for it before your first use. In order to protect the plates of your new grill during transportation, a layer of food-safe oil was coated on the surface prior to shipment. This oil is harmless, but must be removed before you begin to use.To remove, preheat the grill to 350 degrees f or until the oil liquifies. Next, carefully wipe away the melted oil with a clean, soft cloth and clean the surfaces with hot water and a mild dish detergent. Once the oil is removed and you have cleaned the surface, you are ready to season. Seasoning is important for any cast iron item used in the kitchen. It will keep your Panini grill from rusting and ensure a nice stick resistant surface. To season, preheat the grill to 400 degrees F. Once the preheat light turns off, place a small amount of oil in center of the grill. Using a soft dry cloth, spread the oil around covering the top and bottom of the grill. Let heat for 15min or until all oil has been burnished. Your grill may need to be reseasoned periodically due to heavy cleaning. Just follow those simple steps to ensure your grill stays rust free and stick resistant. Thanks for watching, and if you have any questions, please click on our live chat button.
Learn how to season your Panini grill for consistent, delicious results with every sandwich!
Related Videos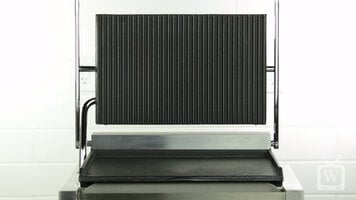 Avantco Panini Grills
Learn about all the features and benefits that come with an Avantco panini grill!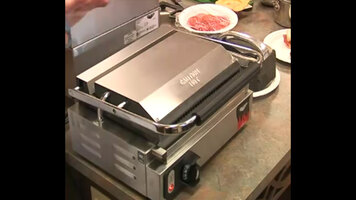 Vollrath Panini Grill Demonstration
Check out this video to see the Vollrath Panini Grill in action. Plus, learn the value of a cast iron panini grill! Diversey Beer Clean
Improve the appearance, taste, and profits of draft beer by ensuring that your beer glasses are clean. Watch this video to learn how the Diversey Beer Clean total bar sink program turns your nearly clean glasses into perfectly clean glasses!